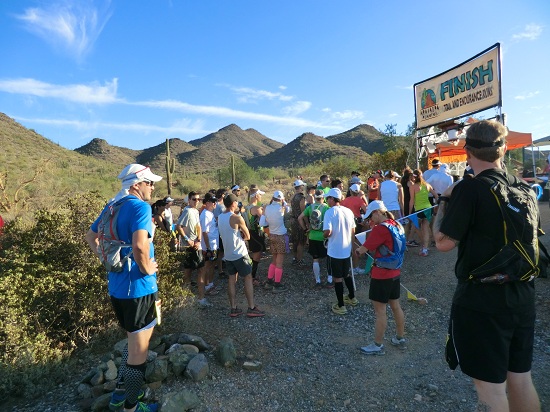 30k Start at the 2012 Cave Creek Thriller
October 2012: 3:12:57 and 12.4 miles into the Cave Creek Thriller I reached the Start/Finish line aid station – my first 30k race was not going exactly as I imagined. My stomach rebelled during the first lap, I was tired and hot and I thought about dropping out – but after taking a break 'just one more lap' started to seem possible – so I headed back out onto the trail for more heat and punishment. I don't have a glorious story about how I 'bounced back' with a 'second wind' – it was hot, I felt miserable and I was moving slowly (more walking than running for sure). At the last – gloriously well stocked – aid station (ice!) I sat on the ground and rested before eventually making my way to the finish in 5:27:14 – not exactly the time/run I had hoped for, but I finished!!! While I was wiped out it must not have been that bad since the next day I signed up for the McDowell Mountain Frenzy 25k in December…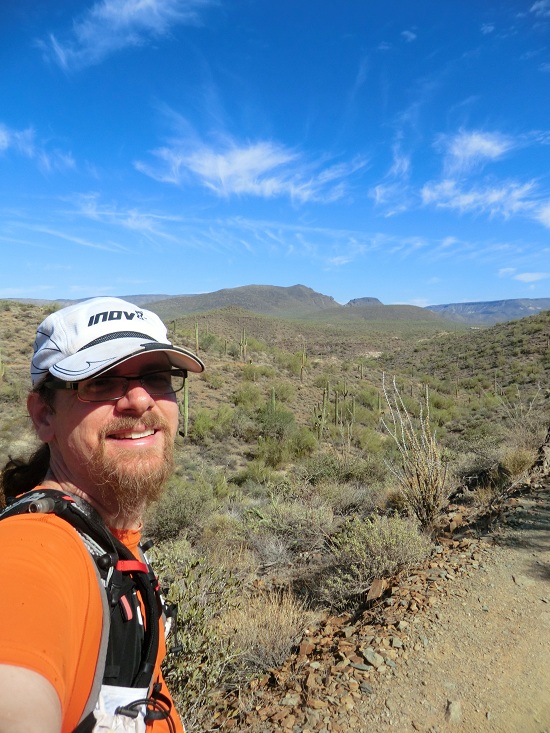 Hurting but still smiling during the 2012 Cave Creek Thriller
If you like trail running you should certainly check out Aravaipa Running's events. The Cave Creek Thriller and McDowell Mountain Frenzy are part of the Desert Runner Trail Series. The DRT Series races are held in regional parks in the Phoenix area. For the 2012/2013 season there are 7 events: Cave Creek Thriller, Pass Mountain, McDowell Mountain Frenzy, Coldwater Rumble, San Tan Scramble, Elephant Mountain and Mesquite Canyon. Every run has (near) 30k and 50k distances and they all have other distance options as well (both shorter and longer). All of the races are very well organized – nicely stocked and positioned aid stations, great course markings and friendly people!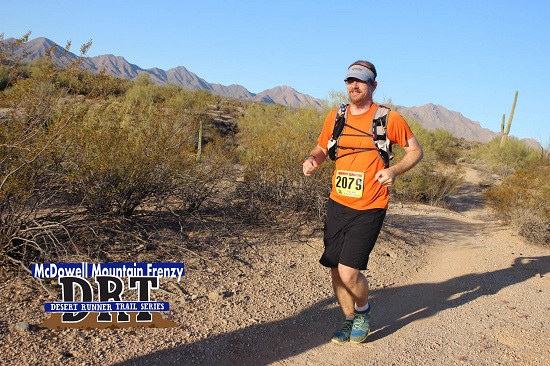 2012 McDowell Mountain Frenzy
December 2012: The morning of the McDowell Mountain Frenzy the temperature was nice and cool. There were a few runners in jackets at the start and I wondered if I would be cold, but it only took a few minutes after the start to warm up. I relaxed for the first few miles and enjoyed rambling thru the desert with the other runners. Eventually a small climb gave me a welcome burst of energy – I sped up for a gentle downhill section before yet another stretch of rolling hills slowed me down. At 1:52:37 I finished the first 10.1 mile loop! I struggled to keep my pace up during the second loop as the course continued to roll thru the desert towards the final steep climb. It would have been a triumphant moment to run up the last hill – but I walked it, managing to arrive at the top with just enough energy to enjoy the downhill to finish line – 3:08:34!

Mugs and Gear from the 2012 Cave Creek Thriller and McDowell Mountain Frenzy
A few gear notes:
Garmin fēnix™: Altimeter, Barometer, Compass and GPS all on your wrist – with remarkably good battery life! This is a great navigation tool and way to track your outdoor adventures!
Inov-8 TrailRoc 245: More room in the toe box than the X-Talon and f-Lite series shoes, great traction/grip on the trail, lots of breathable mesh and a lacing system that does a good job of holding your foot in place – there is a lot to like about this shoe!
Balega Soft Tread Quarter Socks: Great feel and these still feel great after a lot of miles on the trail and trips thru the washing machine.
Salomon Advanced Skin S-Lab 5 Pack: In a run like the McDowell Mountain Frenzy there are plenty of great aid stations with food and drink – you certainly don't need a pack! But, for me, these runs are partly a way to get in-shape for unsupported runs in the mountains where I prefer to bring a bit more gear and this pack works incredibly well when moving fast! The Summit Hut will be carrying this pack in 2013.