This is part 2 in a series of posts on the Sky Island Traverse – previous post: Sky Island Dreaming, next post: Gates into the Green.
From Cochise Stronghold the Sky Island Traverse travels west to Highway 80 and then on to the San Pedro – for this section we departed from the published route and looked over maps, aerial imagery and land ownership information to come up with a different way to exit the Stronghold and arrive at Highway 80 near the Curtis Windmill…
Part 1 – Slavin Gulch Trailhead to Middlemarch Road along FR 687 – 2.8 Miles
Forest Road 687 – headed towards Middlemarch Road
I have been on this section of FR 687 a number of times to access the legendary climbing formations in the Stronghold – but never on foot – it is May and it is hotter than I would like – but looking left to the amazing jumbles of rock is amazing.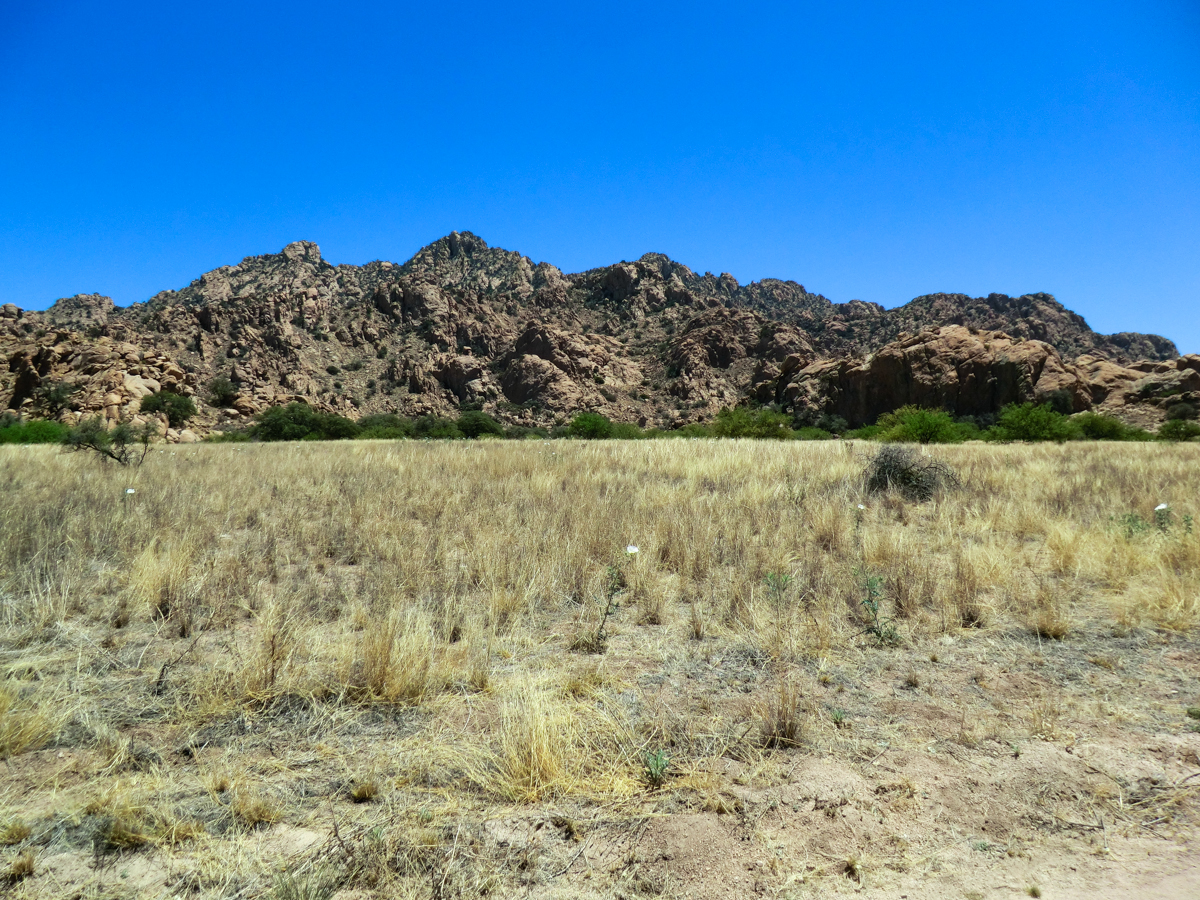 Classic Cochise – a ridge filled with complex boulders and rock formations – looking east from Forest Road 687
Part 2 – Middlemarch Road to Unnamed Road West – 4.1 Miles
Looking back on the junction of Forest Road 687 and Middlemarch road – Sheepshead in the background.
Fences, houses, animals and old buildings come into view that I have never noticed from the car. The subtle curves, drops and climbs – along with friendly waves from passing cars – break up the dusty miles – but eventually I am just ticking off dusty miles to Part 3.

The wide dusty dirt highway…
Part 3 – West on Old Roads to Highway 80 at the Curtis Windmill – 7.9 Miles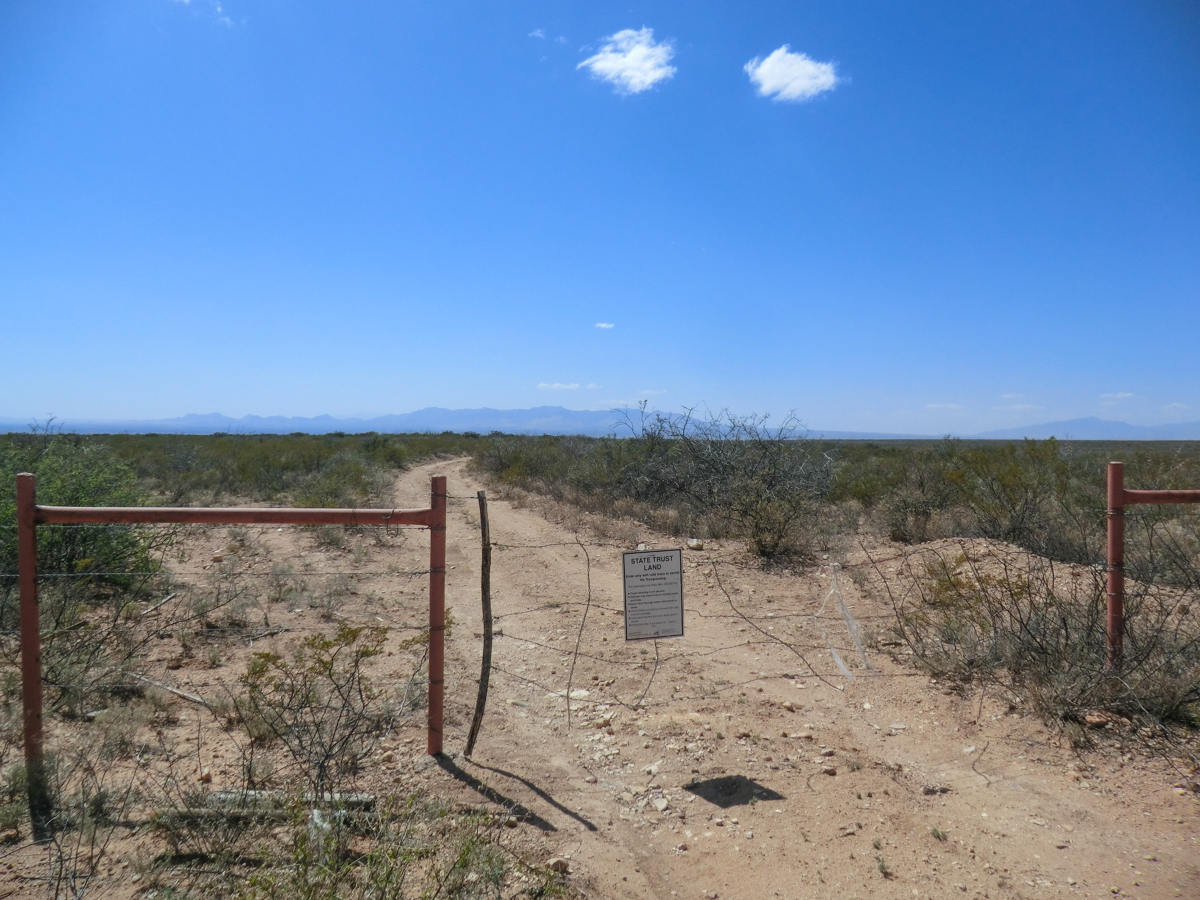 Gate into Arizona State Trust Land just west of Middlemarch Road
The miles on Middlemarch give us access to a swath of Arizona State Trust Land – permit required – where old dirt roads run west to Highway 80. The road I want is unmarked and a GPS waypoint helps me find the junction. My feet appreciate being off the wide dusty road and enjoy the rocks – a nice change from the uniform surface of Middlemarch Road.
A view of the Creosote – Arizona State Trust Land west of Middlemarch
This road appears to get very little use and I am alone amid a sea of Creosote – an occasional Juniper floats into view and Ocotillo break the skyline – white and green in the nearby wash – all I can hear is the wind. I watch my map carefully and eventually take a right turn along a fence, here the trail becomes more overgrown – a few careful steps over another fence – more overgrown road and then signs of cattle.
The road takes me to an area near a well and water tank that are obviously used for cattle – thankfully not here at the moment.
Water tanks and well with Cochise Stronghold in the background
From here the roads show more signs of use but I am still alone as I pass under the power lines and eventually out to Highway 80 at the Curtis Windmill…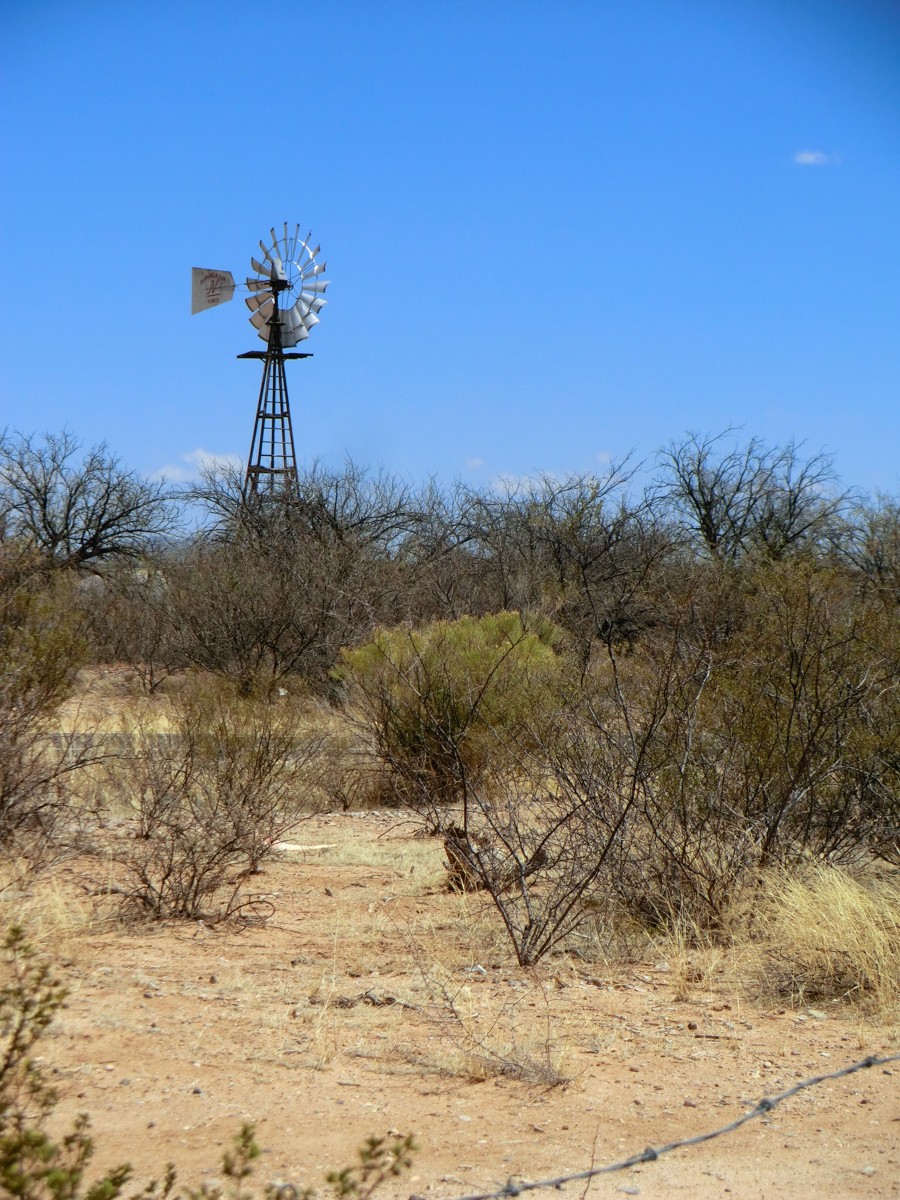 Curtis Windmill – just off the east side of Highway 80

Map 1 with comments – High Resolution JPEG (2.9 MB) or High Resolution PDF (3.4 MB)

Map 2 with comments – High Resolution JPEG (2.8 MB) or High Resolution PDF (3.4 MB)
Notes:
-I did this in several smaller segments and originally thought this would be 2 sections, but later realized this made the most sense as the single section presented here.
-This route exits Cochise Stronghold at a different point and takes a different route over to Highway 80 than the published Sky Island Traverse route – but it arrives at Highway 80 at the same spot.
-As mentioned briefly above traveling across Arizona State Trust Land requires a permit – as far as I am aware permits are not available online and you will likely be obtaining your permit via US Mail (be prepared for the delay!).