Last week I decided that I really wanted to do some backpacking on Mt. Lemmon. I wanted some water and shade to escape the heat of Tucson and my partner wanted some easy mileage as he had just done 15 miles the day before we headed out.
As we approached the Catalina Highway we were still unsure of what trail we wanted to take… our indecision created a random loop of shorter trails that made for an amazing two day trip! We decided to park at the Sunset trail and take Sunset to Marshall Gulch and then from Marshall we could hike down the Wilderness of Rocks Trail to camp.
After just over a mile on the Sunset Trail we looked down the canyon to see a gorgeous series of small waterfalls! I was so excited that I made Jace hike down to the first one we saw. It had an awesome beach area and a little cave feature that made it a wonderful place to stop and relax.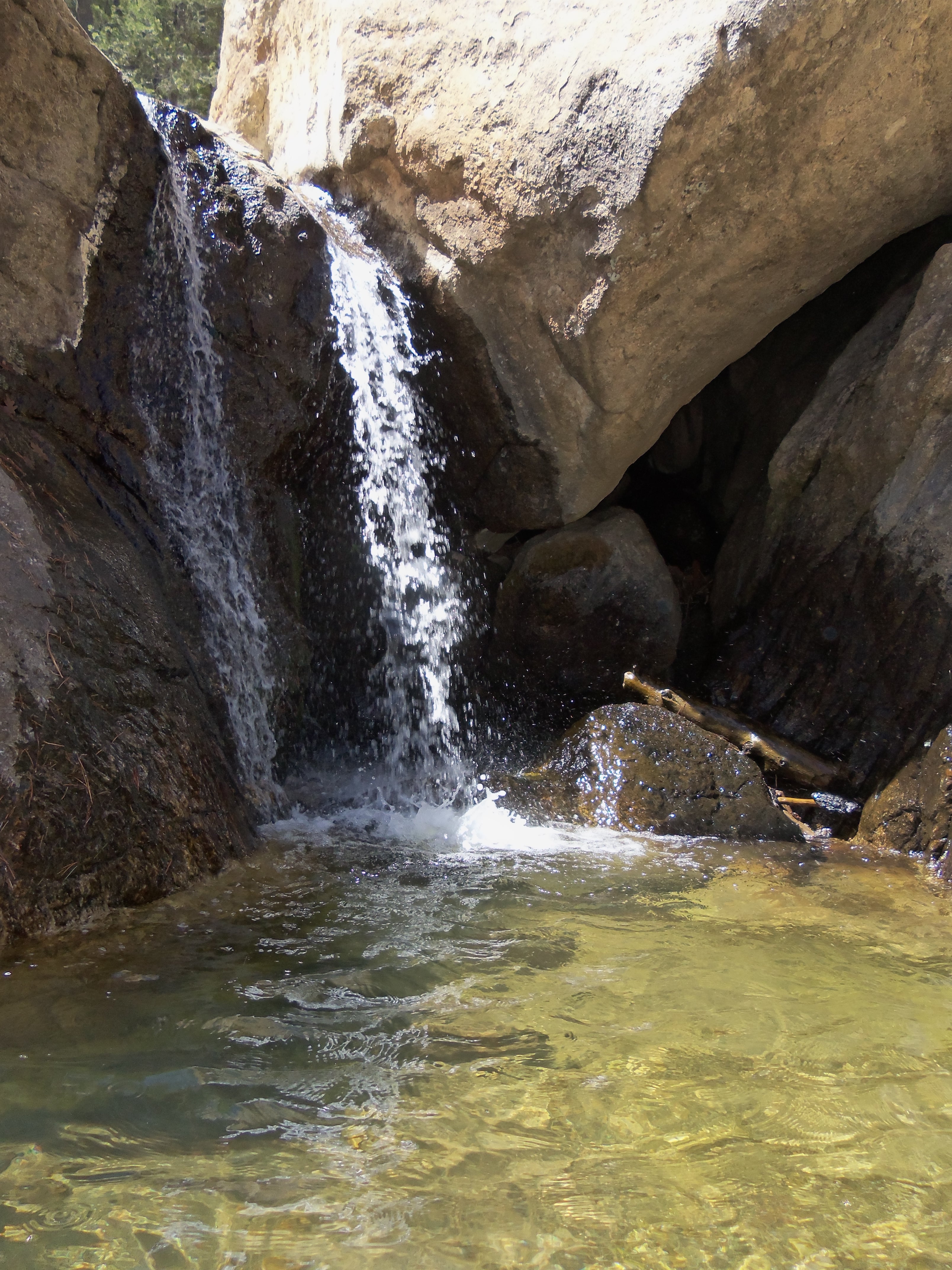 We got to Marshall Gulch in no time and jumped onto the Marshall Gulch Trail – this was my first time actually taking the trail beyond just spending time in the water at the Gulch. It was incredible! I did not feel like I was in Arizona. The trail was narrow and winding, shaded and followed a stream nearly the entire way. Needless to say I was blissfully snapping way too many photos and playing in the forest like a little kid.
Next we hiked down into the Wilderness of Rocks area and ran into quite a few folks who were either rock climbing, bird watching or just out for a day hike. This area was also breathtaking, the rock formations reminded me of castles looming above the tree line in the distance or towering above us along the trail. I have definitely been inspired to try out the climbing routes there.
It was getting later in the day and we had made it as far as we had intended so we started to look for a good camp site. Jace found a pretty established area with a very large, well-built fire pit and we took our packs off there. I was excited to see that in the area there were quite a few trees that had been cut down or fell down (not excited about the death of a tree – excited about what the meant for my evening) they were perfect for shelter building! Shelter building is my favorite outdoor skill – and I had opted out of bringing my tent so I was pretty excited to have all the materials. I do not get to practice too often because I will not cut down or destroy any plants to build them – unless in a survival situation so I made it fancy.
The next day we had planned to hike up to the Lemmon rock lookout and spend another night out on the trail but we were tired and decided to head back. This time after hiking out of Wilderness of Rocks we took the Aspen Trail back to Marshalls. The Aspen Trail is now hands down my favorite trail in Southern Arizona. Sadly my camera died about halfway through but I did catch some of the amazing views.
The trail took us first to an amazing view of the Wilderness of Rocks area we had just hiked out of.
Then it wound along the side of the mountain before plunging down into the aspens that lead us back to Marshall Gulch. This was the perfect loop and I highly recommend it to anyone looking for an easy overnight vacation trip!