This past Friday evening, March 27, the Summit Hut hosted the Banff Mountain Film Festival for the 11th consecutive year in Tucson. Nearly 1,000 people filled the historic Fox Theatre to watch 7 films which ranged in length from 3 to 55 minutes.
My favorite film of the night was Patagonian Winter, the story of a failed attempt by two British mountaineers to make the first winter ascent of Torre Egger. The scenery was spectacular and the conditions truly daunting, but what set the film apart for me was the delightful humor expressed throughout by the two climbers, Andy Kirkpatrick and Ian Parnell.
I was also surprised at my own reaction to Journey to the Center, a film documenting the first BASE jump into an incredibly deep limestone cavity in the middle of China known as the Heavenly Pit. As each jumper committed to releasing himself into the misty void, I couldn't help but get anxious.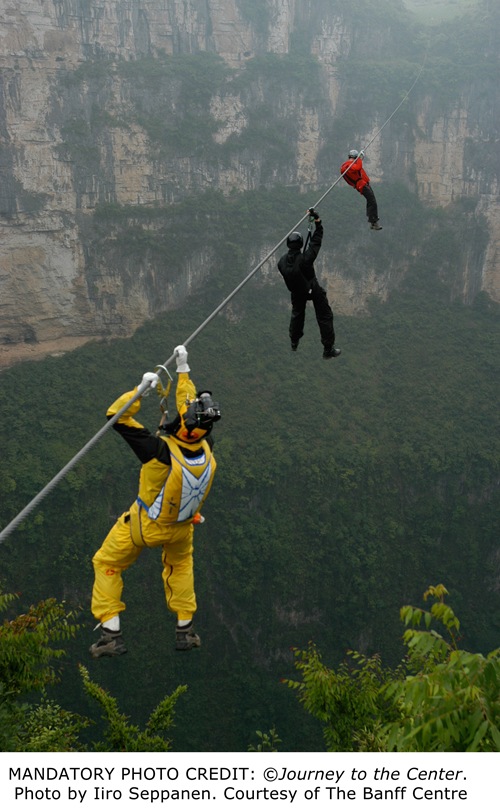 Without a doubt however, the most lasting impact of the evening came courtesy of all the attendees through their ticket purchases. The Summit Hut was pleased and proud to donate $1,000 of the proceeds to Pima Trails Association, a volunteer advocacy group that has worked hard for the past twenty years to protect trails and to insure public access to public wild lands all through Pima County.
Thousands of us enjoy the fruits of their effort every year. For example, Pima Trails Association was involved in preserving access to Ventana Canyon, Finger Rock Canyon, Agua Caliente Hill, and Fantasy Island to name just a very few.
This organization merits your support; their work is an immeasurably valuable gift for all outdoor enthusiasts who enjoy the wild lands of southern Arizona. Pima Trails Association has a number of projects in progress. Learn about these projects and how you help on their website.