It is popular, sometimes even crowded, but that's only because it is so good.
The Blackett's Ridge Trail packs a great punch: it is imminently accessible, as scenic as they come, short enough that you don't have to plan your entire day around it, and challenging enough to provide a very rewarding workout. Blackett's Ridge is simply one of the best hikes in southern Arizona.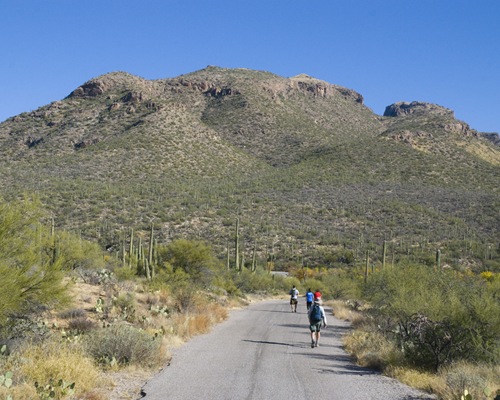 Blackett's Ridge is framed by Bear Canyon on right and Sabino Canyon on left
It is about a 3 mile one-way walk, with a 1,700 foot elevation gain to the end of the trail, so we'll call this a moderately strenuous hike. However, a section near the middle of the walk is steep, with many switchbacks needed to climb over a 1,000 feet in under a mile. Whew!
Walking the ridge top
Traversing the ridge top is like walking the deck of a giant ocean liner. You'll feel like you are floating high above Sabino and Bear Canyons, and the Tucson valley. The view north past Thimble Peak and Sabino Basin towards Mount Lemmon is outstanding.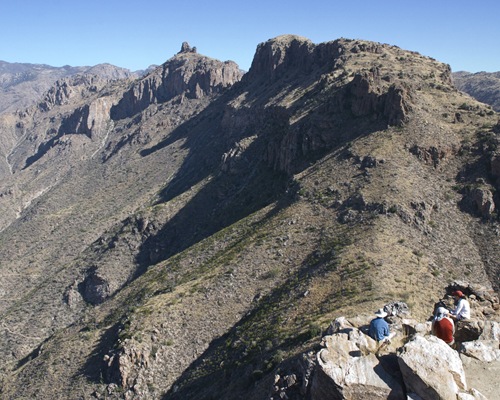 Trail's end with Thimble Peak in distance
Park your car at the entrance of the Sabino Canyon Recreation Area, a short drive from midtown Tucson. This is a fee area. At the east end of the parking lot, follow a wide dirt path east until it joins a paved road. Continue east on the paved road as it swings into the bottom of Sabino Creek and a road junction where a sign will guide you right toward Bear Canyon. Just after crossing Sabino Creek, watch for the trailhead marked by a sign, "Phoneline Tr. #27" After a few steps off the pavement, bear sharply north on the Phoneline Trail which climbs towards the toe of Blackett's Ridge. A little more than a half mile later, watch for another trial marker "Blackett's Ridge Tr. #48" where you turn east and leave the Phoneline Trail. Blackett's Ridge Trail dead ends at the top of some cliffs about a mile and a half later.
Season: Fall, winter and spring. This hike faces south and can be very hot, especially in the summer. (The hike does receive quite a bit of traffic in the summer months; a very early start and plenty of water are recommended.)
Water: None. Bring plenty of your own.
Difficulty: Moderate; 3 miles one way with 1,700 feet of elevation gain.
Maps: USGS Sabino Canyon, AZ ; Green Trails Santa Catalina Mountains; or National Geographic Arizona digital map software.
Click map for larger image