It all started when a customer walked in the store for something simple–I think it was sport beans or vitalyte for a cycling event–and told me about L'Eroica. His eyes got that faraway dreamy stare as he told me of this long ride through Tuscany on historic white gravel roads called the "strade bianchi." Three routes ranging from 45 miles to 127 wind through vineyards and orchards, the aid stations are stocked with traditional stew and salami and Chianti wine, and the bikes have to be steel frames with suicide shifters on the down tube, made before 1987. It sounded like the perfect blend of fun and hardship, a tribute to the pedal giants of Italy who became world-class racers training on these roads. This customer, whose name I don't even know, spun this beautiful story for me and then left. I haven't seen him since. And sir, if you're reading this, I just want to say thanks for that day. The story sparked a passion for both me and my boyfriend Logan, and for three weeks in September to October we're going on a bike packing tour of Italy, from Rome to the coast to Florence to the Alps, and in the middle we're stopping in the tiny town of Gaiole in Chianti to ride the longest distance (hopefully) of L'Eroica.

My 1968 Raleigh Super Course, along the dirt roads at Cochise Stronghold.
Part One: In Purgatory, Counting Ounces and Cents
I used to think ultralight backpackers were a little crazy. Is it really necessary to cut off the handle of your toothbrush? Or spend $70 on a titanium cook pot when you could get one for $20 in stainless steel? But desert backpackers are hedging against the weight of their water, and a 1 liter stainless steel M.S.R. Stowaway pot weighs nearly a pound; the Evernew Ti Non-Stick Pot is only 6 ounces. 10 more ounces of water for the pack.
I knew all this in theory, but it finally hit home after we found and restored two beautiful vintage bikes, a 1968 green-bronze Raleigh Super Course for me, and an early 1980s Raleigh Competition G.S. for Logan, which he repainted in silver (one of its original colors) with blue accents. Steel frames, especially my older mid-range model, are much heavier than modern bikes, and after adding a rear rack and panniers, I was chugging to work like the Little Engine That Could with just my lunch and a change of clothes. The idea of throwing in camping gear, nice around-town clothes and camera equipment and setting me to work on the giant hills of Tuscany made me think I'd wind up on the side of the road crying on the first day. Which might still happen. But we started analyzing more seriously what to pack for a trip like this: three weeks in mild weather, with rain likely, hosteling and camping, with a great need to keep weight and space and expenses to a bare minimum. This is what we came up with.

Our bike-packing gear, all spread out.
Shelter setup: Terra Nova Adventure Tarp (1 lb 3 oz, $50) with an All Weather Blanket (12 oz, $17.75) for our ground tarp. Logan came up with this duo in a stroke of genius. The tarp is big enough that we can get our bikes underneath and still have good coverage for fairly heavy rain, or just set it up for a lounging sun shade. The blanket is large enough for the two of us and will reflect some heat so we can carry lighter sleep gear. It's a setup that's durable, inexpensive, and lightweight; a rare and magical trio.
Sleep system: Lafuma Warm N Light 600 down sleeping bags (1 lb 6 oz, $119.95) with Sea to Summit Thermolite Reactor Liners (9 oz, $54.95); underneath we'll have Exped Airmat Basic UL sleeping pads (13 oz, $89). With the all weather blanket underneath, we can skimp weight by bringing uninsulated pads for the mild weather. The sleeping bags are only rated to 40 degrees, but the liners warm them up considerably, and can be used separately when we're hosteling. This was the hardest area to try to cut down the cost. There are less expensive pads out there, but they're bulkier and heavier, and this being a vacation we decided it was worth it to invest in sleeping well.
Clothing: Here's where it's easy to pack way too much. We decided to bring one nice outfit each for going out on the town, and stuck to solid muted colors and classic cuts that are comfortable enough to wear every day, so we each have light dress pants that can be worn with our nice shirts or with the long sleeve sun shirts we'll be cycling in (For him: Mountain Hardwear Justo Trek Long Sleeve T; for me: Icebreaker Bodyfit 150 Long Sleeve. Both are rated UPF 50 for a high level of sun protection, and since mine is merino wool it won't stink). We'll carry one extra pair of bike shorts, underwear, and socks. For warmth I'm layering a Patagonia Synchilla Fleece Vest (8 oz, $79) and my rain jacket, the super light Marmot Crystalline (6 oz, currently on sale for $129.99) will double as a wind layer. If it gets colder we'll go into town, or wrap ourselves in our sleeping bags. Last accessory: a Wool Buff (2 oz, $27), which functions as a neck scarf, dust cover, balaclava, and thin beanie that fits under my helmet. When I'm not wearing it I keep it wrapped around my camera.
Personal hygiene: In addition to the run of the mill toiletries, there are some secret solutions I'm bringing along. The lightest weight laundry soap ever might be the Sea to Summit Pocket Laundry Wash (1/2 oz, $3.95), which is biodegradable, rinses clean super easily, and will wash a full sink of clothes with one dry leaf. It can also be used as a body wash, and they make a Pocket Shampoo with conditioner. The Fresh Foot Stone (2 oz, $3.99) is just a smaller version of the Thai Crystal deodorant stone, which I've used for years; it's essentially just a block of mineral salts that inhibits bacteria growth that create stink. It's odorless and doesn't leave residues on clothes, and as the name implies, you can use it on your feet too. The last and most important thing: Chamois Glide (1/2 oz, $5.99). Saddle sores absolutely happen on this kind of endeavor, and this little stick gives an awesomely thin and not-messy layer of protection. You can also use it on feet, inner thighs, or any other place that chafes.
Security: As in any major city across the world, theft is high in Rome and Florence, and thieves are always getting smarter. Now there's a way to steal your information from credit cards and your passport without actually taking them, by scanning with an RFID reader. Inside our money belts we'll have everything tucked in PacSafe RFIDsafe 50 sleeves (1 oz, $19.99) that block scanning.
After cameras, first aid kit, and bike tools, my rough estimate is that we've got 10-12 pounds of gear on each bike. Which, when I did the math, sounds pretty impressive and hits right on the mark for a respectable, recommended bike packing weight. It still felt heavy crawling up Mount Lemmon.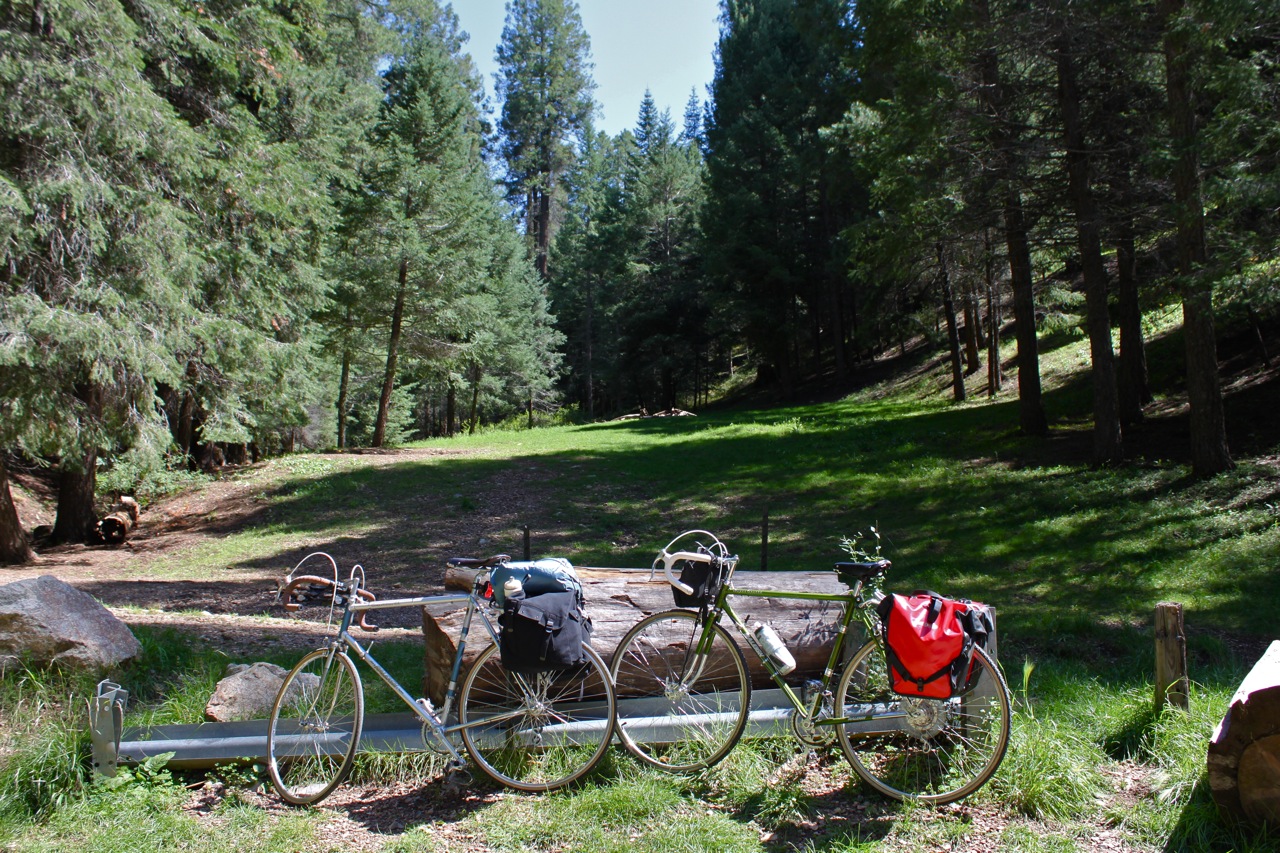 Bikes packed and ready to ride!
More on that ride soon. Stick around!