The Hobo Trio continued northward from American Flag Trailhead. We learned from Marney that we were EFI'ers (Every freakin' inch). We were extremely aware and diligent to walk every inch of the AZT, making sure not to cut corners and to go back and start exactly where we left off. Late in the day on April 9th, we were resupplied at Tiger Mine Trailhead (mile 209.1) by Dave & Irene Baker and Dave & Debbie Boyd; per usual, they did a stellar job and we joked and laughed a lot.
Heading into the Black Hills, we were about to be hit with a huge dose of irony…The Black Hills are beautiful, stark, dry and hot. Travelers through this area usually prone to environmental issues related to heat: dehydration, heat exhaustion and heat stroke. Not us! We were pummeled by a gigantic freak Spring storm with excessive lightning. Wave after wave, we took a direct hit. The first two waves were manageable by donning our rain gear and marching on. It even cleared out and we removed our rain gear. Then, the big one came. The wind started to howl, the temperature plummeted and a black wall of water with crashing lightning was rapidly heading straight for us. Within thirty seconds, we made a collective decision to take shelter in a tent…my tent, because it was the largest and driest. I kid you not, that Nemo Hornet 2 Person tent was up in about three minutes and the three of us and our backpacks were all stowed safely inside. It was a tight fit, but the two vestibules really helped out with protecting the backpacks. Luckily we were situated in the best possible location when this storm blew up – down in a gully for lightning protection, but on a bench for flash flood safety. As we waited this wave out, the time between the flashes and the thunder was less than one second and the rain was coming down in sideways sheets. After about 30 minutes, this wave passed on and Dinny and Gary had a 20 minute window to set up their tents. Good thing, because it rained all night, wave after wave. This exact scenario, and others like it, are precisely why I own this Nemo tent – when all hell breaks loose, I know I've got a large enough, reliable shelter, which is simple to set up.
We pushed northward and reached the Freeman Rd. Trailhead on April 11th. Via text messages, Royce Marion was back in action helping us out immensely! She carved time out of her busy schedule and made a water, juice, potato chip and cookie drop for us in the cache box at Freeman Rd. In her usual style, Royce went above and beyond and supplemented our goodies with hilarious personalized notes – this made our day!

Cooling off in the Gila River
We filtered drinking water from a bee-infested stock tank, took a cool dip in the crisp Gila River and climbed through gorgeous desert canyons on our northward trek. On April 16th (day 26), my sister Kim Noetzel, my super-cool nephew Noah Noetzel, and their beautiful border collie Zoe Marie met us at the Picket Post Trailhead four miles out of Superior, AZ where we had a motel room for a rest/laundry day.  All we asked for was a lift into Superior, but we received so much more! They brought the house including WARM breakfast burritos and ICE COLD Hop Knot IPA's! We inhaled all of it before we left for Superior! In addition, Kim surprised us with fresh, moist delicious cakes from one of my favorite bakeries, "Nothing Bundt Cakes." My birthday was coming up on April 20 and she acknowledged it awesomely. Those individual creamy bundt cakes didn't stand a chance…
Next up were the stunning Superstition Mountains. I had never hiked in the eastern portion of this range and I was thoroughly impressed with its rugged beauty and unexpected diversity. The Reavis Ranch area struck me with its charm and it was really cold at night (4,867 ft.)! It took us about three days to navigate through this challenging range and then we finally caught a glimpse of Theodore Roosevelt Lake.

Roosevelt Lake from above
When we arrived at Roosevelt Lake, the heat was on! We were fried and eventually made our way to the Marina, where things got much better. So good in fact, that we decided to take a rest day the next day and let the heat wave pass. The Marina had a nice little store filled with all kinds of refreshments and a comfortable shady place to relax. As the sun was setting, we headed out to find a campsite; we were told there was free camping near the lake just down the road, so we set out to find it. Apparently, we missed the gravel road turn off and ended up in Cottonwood Cove, where several "No Camping" signs were posted. As we were wandering around trying to locate the free campsite, a voice from an RV parked in an official parking area called out, "Do you guys need a place to camp?" I immediately replied, "Yes!"
That voice belonged to Jeff Brown, the Cottonwood Cove Host and trail crew personnel. Jeff was very kind, interested in our AZT adventure and gave us permission to pitch our tents right there on prime real estate. Moreover, he showed us the best place to go for a swim AND offered to drive us up the road to the showers! We had an excellent rest day on our private beach – swimming, relaxing, eating and drinking. Thanks Jeff Brown! You were truly an AZT Trail Angel for us. P.S. – Jeff also gave me a canister of stove fuel when I ran out!

Campsite at Roosevelt Lake
Although we had a terrific time resting at Roosevelt Lake, the trail was calling and we knew it. Even though it wasn't as hot as before, it was still going to be very warm, so we set our alarms for 3AM and boots were on the ground at 4AM the next morning – we had a lot of uphill hiking to do in the Four Peaks Wilderness.

Rugged approach into Four Peaks Wilderness
The Four Peaks area was surprisingly stunning. As we hiked higher and higher, two different local parties informed us that the place was loaded with black bears. We did not see any bears and the trickiest part of the passage was water availability. We made it to the barely trickling Buckhorn Creek the first night and the next night needed to pre-filter water out of Pigeon Spring due to the plentiful small wiggly aquatic creatures who called this cement trough home.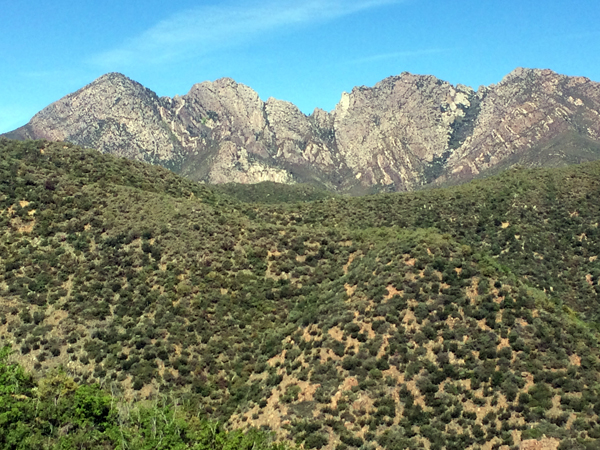 Four Peaks Wilderness
After the Four Peaks, we were resupplied at Sunflower by Dave Boyd, who, in addition to doing stellar work, was helpful, patient and kind. As the wind was howling, the Hobo Trio headed for the Mazatzal Mountains.
I had never been to the Mazatzal's; I had only heard stories about them.  I was thoroughly impressed with what I experienced here – they are big, beautiful, gnarly, rugged and REMOTE! While we were hiking through, we met two great guys – Joe and Roger. Joe is the out-going trail steward for this passage and Roger is the incoming trail steward; Joe was showing Roger the ropes and they were going to be there a couple of days grooming the AZT. Roger had hiked the AZT and shared his bear encounter story with us. Joe was extremely knowledgeable about mountain lions and taught us interesting facts about their behavior. We chatted quite some time. Joe said he was going home a day earlier than planned and graciously offered us his extra food – we gladly accepted it and it was delicious. Thanks Joe!