The Linda Vista Trail is really a network of three or four trails, all tucked under the north side of Pusch Peak in the Catalina Mountains north of Tucson. Very easy to access, trailhead parking is just a few hundred yards off Oracle Highway. This is a great place to enjoy a high quality yet short hike; especially for those living or staying in the Oro Valley area.
Rugged hillside above Linda Vista Trail
The trail traverses a rich Sonoran Desert landscape along the base of mighty Pusch Ridge. Linda Vista delights with quiet little desert nooks, grand views across the Oro Valley area, and just a taste of the rugged and steep hillsides that leap up towards the high reaches of Pusch Ridge. It is wonderful and surprising to find such enjoyable hiking so near civilization.
A view of Oro Valley
Find the trailhead a few hundred yards east of Oracle Road on Linda Vista Blvd (3.1 miles north of Ina Road). The Linda Vista Trail network allows one to put together a variety of hikes, including short in-and-out walks, and longer loop hikes up to about 2.5 miles in length. (At the far end of the main loop, watch for a trail junction marked with a blank, metal sign. An old hiker's route to the top of Pusch Peak leaves the Linda Vista Trail here and heads uphill into a steep and rocky canyon. This steep and difficult route has a completely different character than the mellow Linda Vista Trail loop.)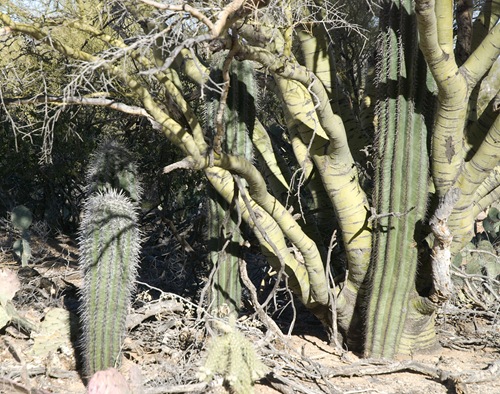 Young saguaro cacti sheltered by a palo verde "nurse tree"
Season: Fall, winter and spring. This low elevation hike can be very hot in the summer, take care.
Water: None. Bring your own
Easy to Moderate: The Linda Vista Trail network offers several loop opportunities up to 2.5 miles in length, with a maximum elevation gain of about 480 feet.
Note: Dogs are not permitted in this area.
Maps: Green Trails Santa Catalina Mountains.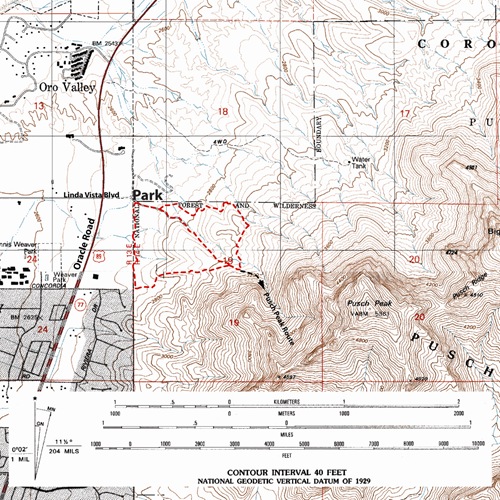 Click Map for larger image