I would guess that Mt Wrightson's summit receives a thousand or more visits annually, and for good reason. The Mt Wrightson Wilderness is a worthy attraction with its diverse landscapes, plentiful wildlife, and rich mining history. The views from Mt Wrightson's summit and the surrounding high ridges are some of the best in southern Arizona. The vast majority of visits to Wrightson originate from popular and conveniently accessed Madera Canyon.
Mt Wrightson from Gardner Canyon Rd
A far less-traveled option is to approach the east side of the range using the un-paved Gardner Canyon Rd. Various dirt roads branch off Gardner Canyon Rd, heading to the edges of the Mt Wrightson Wilderness, and a nice network of trails offer many hiking possibilities.
One of my favorite of these hikes is an 11 mile loop that leaves the road's end in Cave Canyon, climbs to Florida Saddle, traverses the Crest Trail to the base of Mt Wrightson's summit dome, and finally drops down the Gardner Trail to close the loop.
Trail-side seating in Cave Canyon
Find the Cave Canyon trailhead (31.70994 N, 110.79898 W, WGS84), by driving Arizona Highway 83 to the junction with Gardner Canyon Rd about 21.5 miles south of I-10 (four miles north of Sonoita) and turn west. Drive Gardner Canyon Rd until a junction is reached with a sign directing you to continue straight to "Cave Can. Trail". The trail leaves the end of the dirt road in Cave Canyon. The last mile or two of the road requires a high clearance vehicle, though not 4 wheel drive.
Walk west from the trailhead for about 0.2 miles to a junction (31.70906 N, 110.80197 W, WGS84) where you veer right onto an un-signed 2-track road which quickly swings west up Cave Creek. The 2-track soon gives way to a hiking trail which climbs smartly to Florida Saddle. From Florida Saddle head west, then south following the Crest Trail to Baldy Saddle.
Cave Creek viewed from the Crest Trail
Feeling good? If so, you may decide to make the 1.8 mile trip from Baldy Saddle up to the top of Mt Wrightson and back before completing the loop.
Back at Baldy Saddle, find the Super Trail and walk it for about 0.7 miles to a metal sign marking the junction with the Gardner Trail. Due to fire damage, the first mile or so of the Gardner Trail is quite difficult to stay on and adding to the challenge, I found that the trail alignment indicated on the USGS Mt Wrightson quad is not accurate for part of this section! Lower down, the trail becomes far easier to follow as you approach the junction with Walker Basin Trail #136. Past this junction stay on the Gardner Trail for another 2 miles or so to the Cave-Gardner Cutoff Trail. Turn left (north) here, walk down into Cave Canyon, and back to your waiting vehicle.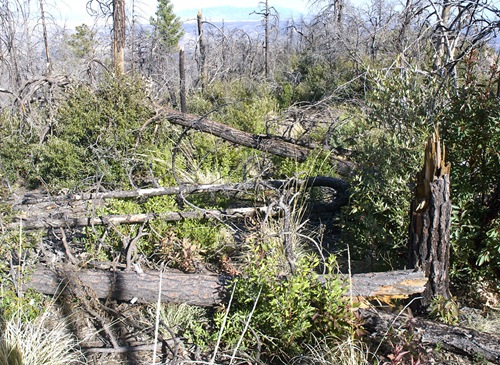 Fire damaged section of Gardner Trail
Season: Fall and spring preferred. Winter snow and slippery ice can impede or halt progress altogether at the high elevations, especially on the summit dome of Mt Wrightson. During summer months this hike can be very hot in the lower elevations, so early starts and an ample supply of water are recommended.
Water: Bring plenty of your own. Seasonal water might be found in Cave Creek and Gardner Canyon, or at Baldy Spring. If you are able to collect water, purification is recommended before using.
Difficulty: Difficult. The full loop is about 11 miles long with a 3,400 foot elevation gain. If you make the side trip to the top of Mt Wrightson, figure 13 miles and a 3,800 foot elevation gain. Finding the top mile or so of Gardner Trail #143 is difficult because of fire damage, so a map, and compass or GPS are recommended. Adding to the challenge of this section is that some maps do not show the correct trail alignment.
Maps: Green Trails Maps – Santa Rita Mountains, USGS Mt Wrightson AZ, or National Geographic Arizona digital map software.
 
Click map for larger image