When you're trying to recount the newest most amazing trip you've taken in your life, it can be hard to start at the beginning. Details of things loved and mishaps overcome come rushing in all at once. So instead, I'm starting in the middle of Italy, with the day Logan and I saddled up in Florence and started riding our bicycles into the heart of Tuscany.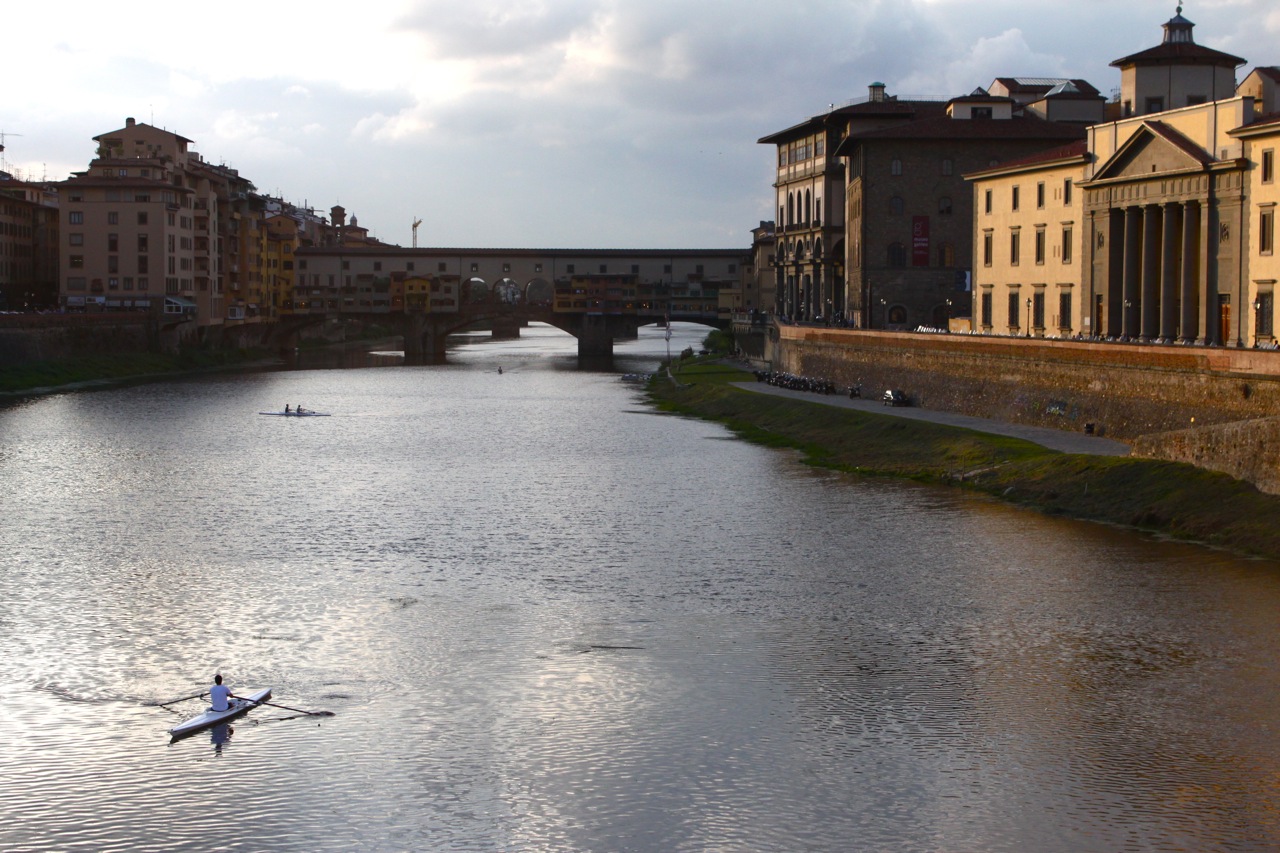 It felt so wonderful to be back on the bikes. We had spent months riding and planning and packing, all to arrive in Rome – crazy, beautiful, hectic, ancient, nutso Rome – and realize that Italy is quite a big place. We had imagined we would ride our bikes across this whole country and see everything; but it became quite clear that it would take all day just to get outside Rome, and in the process we very well might die in a compound collision with a scooter, a car and a bus all at the same time. So we took the train. And it was so accessible, so fast, that we ended up taking trains a lot, and lugging our bicycles in and out of bike cars all across Italy. But the landscape of Tuscany was far too legendary and beautiful to pass up.
Cycling out of Florence we got lost right away, thanks to a mysterious cue sheet in our terrible Cycling Italy guidebook. (Sorry Lonely Planet; I love you, but you led us astray on this one.) We had already encountered the interesting way that Italians give directions, having gotten lost at the train station when we were looking for our hotel. I walked into a newspaper stand to ask for help, and the man behind the counter was smoking a cigarette indoors, because you can still do that in Italy if you own the place. I was looking for a street called Via Fregene, and the man walked outside with me, pointed to a side street leading out between two buildings, and said in broken English, "turn here, 500 meters, Via Fregene." I thanked him in my severely broken Italian, bought a map, and we headed up the street. Via Fregene was not there. We finally found it on the map. In a similar fashion, just as we were nearing the edge of Florence our mysterious cue sheet told us to veer right "to Scanducci," so we veered right, climbed a steep hill and were rewarded with a beautiful sweeping downhill across green vineyards heavy with grapes. Several happy kilometers later, we arrived in Scanducci where the vineyards promptly faded away into out-of-place mega malls and industrial-looking buildings. We had missed a turn somehow, though we hadn't seen a turn to miss, and we were several uphill kilometers off route.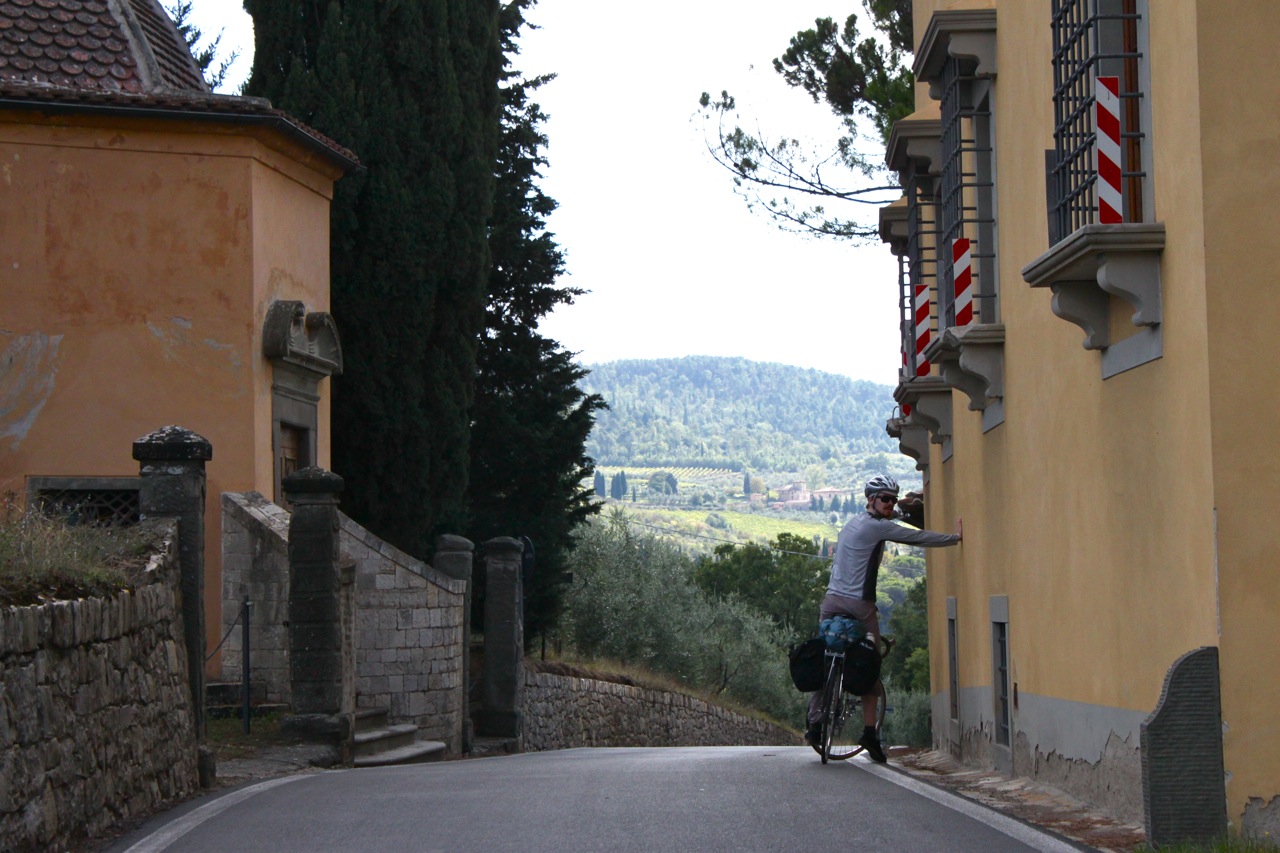 I threw the Cycling Italy book back in my pannier and we asked for directions at a gas station/pannini shop. I explained to the woman behind the counter that we were trying to get back toward a little town called Impruneta, and at the name she nodded and said, "Impruneta, yes! Take this street in front, go left, it takes you to Impruneta." I was surprised; the street in front of us ran north-south and we were trying to head east. I asked if we would need to turn off anywhere, and she said "no, take the street in front, go left, Impruneta." So we went left. We never got to Impruneta.
Luckily, Logan is a masterful navigator and through the poorly or completely unmarked snaky roads he forged a path that slithered sidewinder fashion into Chianti, bountiful land of wine and hills. It was a clear day with just enough cloud cover to keep us from getting hot. The hills were so steep that I felt compelled to strip them of their designation as "hills"; they may not be the jagged peaks of the Alps, but I would no sooner call them hills than I would give the same name to the Appalachians. They were tough and tall, but fully balanced by my love for the beautiful views that kept changing with each turn, each dip into a valley, each pull to the top.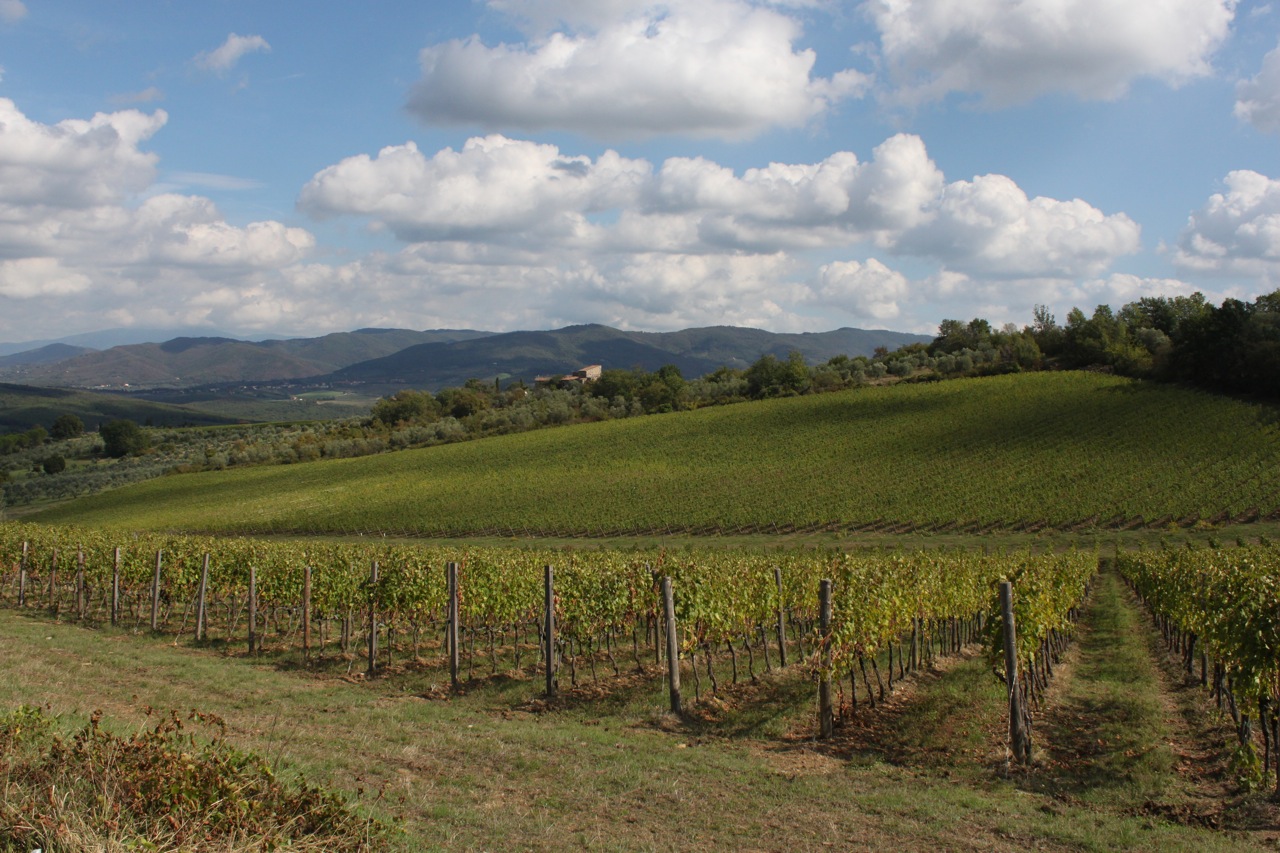 The landscape of Tuscany is the kind that will never capture well in a photograph. A photograph can describe the perfect, neat and tangled rows of grapevines, and the silvery sage leaves of low olive groves, set in large blocks like a patchwork quilt draped over the hills all the way out to the horizon. It can show you how the small houses, either made of stone or touched with bright colors, dot the hillsides, some of them centuries old. But a photograph can never capture how familiar it feels here, how comforting, to see a landscape like this that has been so manicured, so well worked by generations, and yet it's a landscape that still retains a sense of freedom and space. Maybe it's from growing up in the Midwest, where my backyard expeditions involved tramping through the woods and the cow fields, constantly ducking under barbed wire fences. How do I describe why I felt at home here in Tuscany? Even though there was nothing wild about this landscape, I still felt the thrill of adventure. It wasn't out there, where you could see it in a photograph; it was inside my bones.
A few kilometers outside Greve, our destination, we climbed a big hill to go screaming down a bigger one, grapevines flying past and my mouth opening to a happy scream of its own accord. This kind of cycling, up and down all day, is positively delicious. The climbs would be snail-slow, but then on the sweet blessed descents, anything I'd felt up to that point – any exhaustion or titchyness, any doubts about traveling halfway around the world to climb another damn vineyard-covered hill just like the last for god's sake – all of that was immediately blown away by the speed and the view. To ride a bicycle down a Tuscan hill is to commune with God.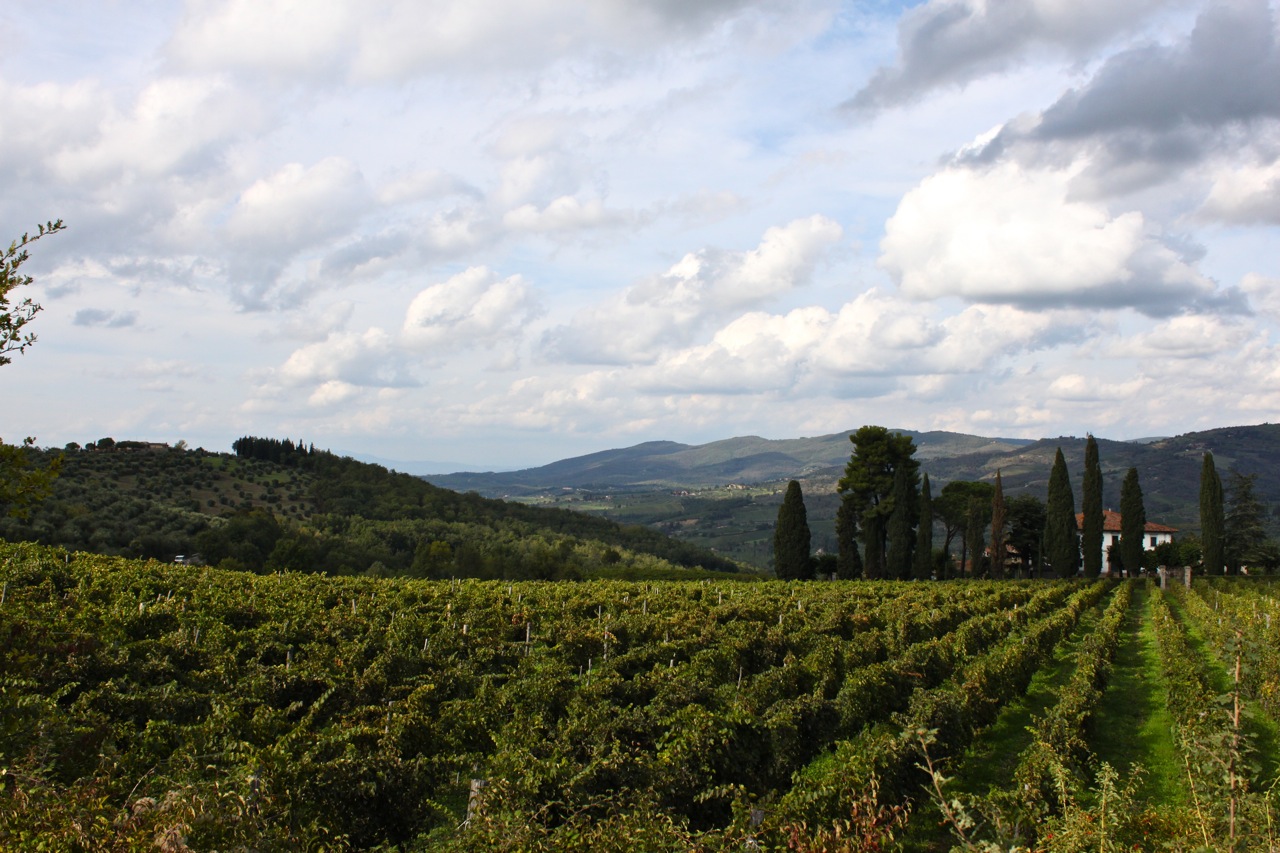 At the bottom of the hill we were met by a winery and stopped for a tasting, where I had the first rose I have ever enjoyed. It was a bright crisp red, made from Cabernet Sauvignon grapes, as if you could distill a Cabernet to a crystalline tincture. It was incredibly refreshing after 40 kilometers of up and down cycling. This was followed by two Chianti reserves, the last one smelling like my father's garden in April. I loved that wine. Logan's last glass had a finish that was light and woody, like the way soft maple wood could taste if you tried it.
Greve was cute, but it didn't sing to either of us; it's the curse of traveling in Italy that you get to become a snob about how some little town doesn't have enough history or architecture or charm, even if said town has all three in spades compared to any cute little American town. In any case, we went onward to Radda, a medieval walled city that was 7 kilometers directly up a hill. It was a steady incline only tempered by a shot of espresso I'd had in Greve and more beautiful vineyards, farther and farther below with each turn. Then a joyful riotous downhill for a few kilometers, then bliss. We stopped in a small stretch of woods and ate pecorino cheese and sausage we'd bought at a market, plus crackers and two little jam pies we'd saved from breakfast, and a packaged pastry similar to a glorified Italian twinkie.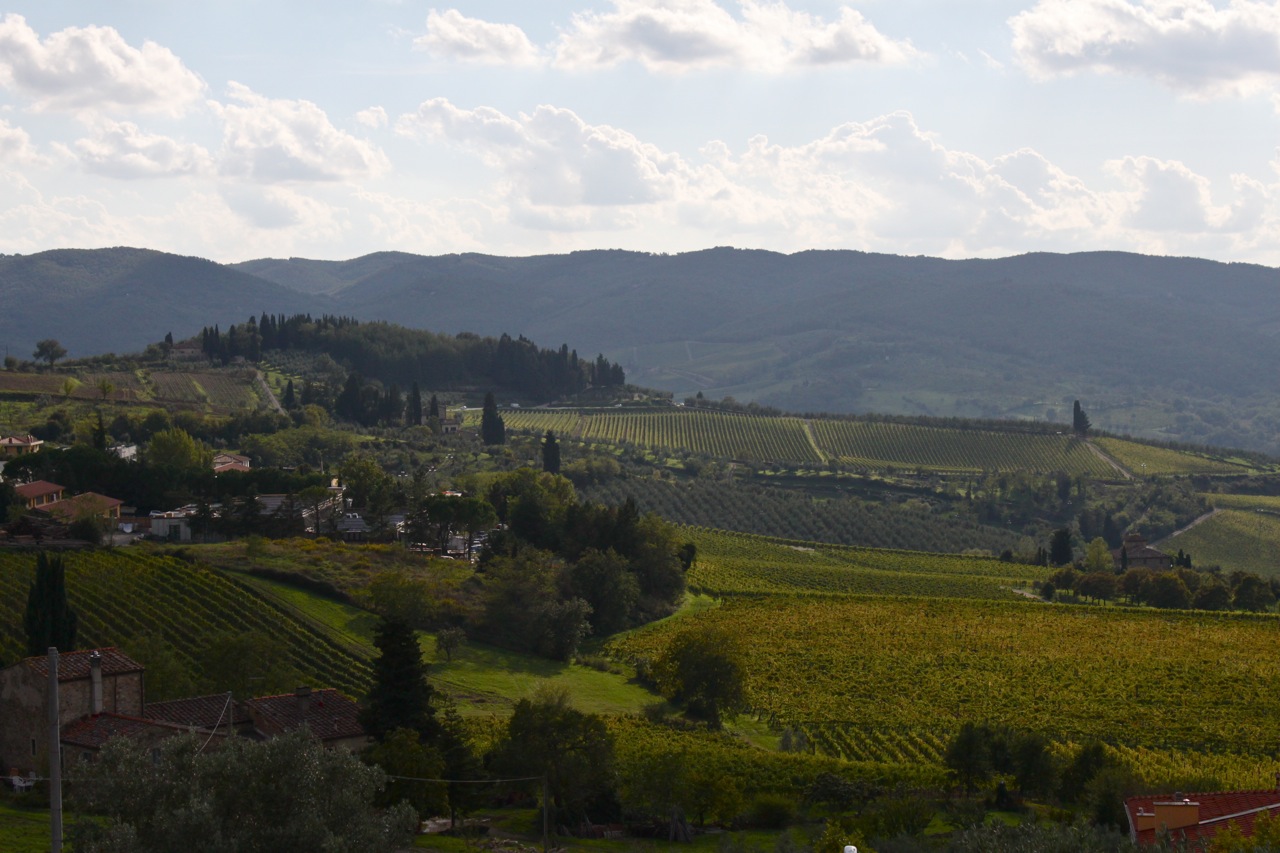 Soon enough we came to a small sign: Radda was up a hill, just 0.2km. So close. And yet, it was the steepest piece of hill we'd ever seen, too steep to crank through. We dismounted and walked, our heads hung, all the way up to Radda. It was charming and old and full of pretty stone buildings; just the way we liked it. Wild boar stew for dinner, with wine from a vineyard just down the hill.