Planning and Prepping for the Sky Islands Traverse
Those of us who dwell in southern Arizona are familiar with Sky Islands – the forested archipelago at the tops of the mountains, isolated from one another by a surrounding sea of desert. The Rincons, Catalinas, and Santa Ritas are known to Tucsonans, but there are actually 27 Madrean Sky Islands in the US, mostly in Arizona but also reaching into New Mexico. The Sky Islands Traverse (SKiT) follows a 500-mile spiral-shaped route connecting 10 sky island ranges in southern Arizona. 
A handful of people have hiked the SKiT, all in spring, all in a clockwise direction beginning in the Dragoons and ending in the Chiricahuas. My wife Megan and I will be attempting this route in the fall of 2020, heading in a counter-clockwise direction. If someone has gone this way before, they didn't document it online. Megan and I have backpacked over 8,000 miles together, so while we are confident in our abilities, we expect this will be the most challenging long hike we've ever attempted. 
WHY?
Why would we want to hike a barely-used desert route, with challenges such as finding water sources, navigating across trailless stretches, and bushwhacking through catclaw? A lot of reasons, actually. Our most memorable adventures are the challenging ones, and with each new hike we try to find new ways to strengthen our outdoor skills. We love the desert, and we want to explore a long trail/route here in this beautiful state we call home. We're also seeking solitude. We expect we'll be totally alone for about half of this route, until we join up with the Arizona Trail through the Catalinas and Rincons. Surely we'll fight some, but we'll also be working together. 
CHALLENGES
The biggest challenges on this route are going to be water and navigation. Brett Tucker, the pioneer of this route, has mapped out an impressive list of water sources. However, as the first people to hike this route in the fall, we can expect that some of the sources that are reliable in spring may not be when we get there. We may have some pretty big water carries. Tucker also compiled a very detailed data set and GPS route. We've been working on reversing the order of waypoints to match our direction of travel. We'll be carrying paper maps for the route, but will also be using Gaia GPS most of the time.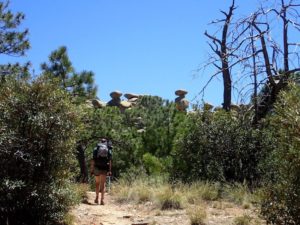 GEAR
Working at Summit Hut gives me plenty of opportunities to research and compare gear. While our basic setup is established – packs, cook set, sleep system – there are a few key pieces of gear we will be adding to our kit to bring along for this hike.
Gaiters
Typically we hike with ultralight hiking gaiters , designed to keep debris out of our shoes. They're great for normal trails, but for this one, we're getting traditional, more heavy-duty gaiters to protect our legs from all the sharp desert plants we will inevitably be bushwhacking through. 
Water Filter
Water treatment is important, and while we usually opt to treat with drops such as AquaMira, desert water sources can be murky and silty, so we're bringing along a filter for this hike. The Sawyer Squeeze is the best lightweight filter for backpacking. It's affordable, easy to use, has a decent flow rate, and is easy to backwash in the field.
GPS Locator Device
GPS locator devices with 2-way communication such as the Garmin InReach Mini are great for giving family regular updates that we're alive and well. It provides us peace of mind that we have a way to call search and rescue if an emergency happens. Other perks include weather reports and the ability to track and map out our route.
Dromedary Bags
Dromedary bags such as Platypus Soft Bottles are a great lightweight option for big water carries. When not in use, they take up almost no   space and weigh very little. For carrying water across a long dry stretch, they are invaluable.
Binoculars
Although we tend toward the ultralight philosophy of backpacking, we're bringing along a small pair of Nikon Trailblazer 8 x 25 binoculars. Compact and relatively lightweight, the binoculars will allow us to fully enjoy the rich diversity of birdlife along this route.
Other Planning
We'll also be pre-planning some other factors for this hike, including prepping some meals for mail drops and mapping out our resupply points. These plans can wait until we get a little closer to the fall. In the meantime, we're hoping for rain and hiking as much as we can to keep our bodies ready for this undertaking. Finally, we're working on getting mentally prepared. Navigating and bushwhacking can be frustrating, but the freedom they provide is worth the suffering. The first rule of long distance hiking is "embrace the suck". See you on the trail!
To read more from our very own Assistant Manager, Paul Hammond along with his wife/fellow adventurer/blogger/storyteller Megan Hammond follow this link to their blog- HikingHammonds