Over the past couple of years I have become more excited about running and moving quickly in the backcountry has become something that I enjoy/dream about/work towards. If – like me – you want to move fast/run on the trails and still carry a bit of gear and extra water with you the Salomon Advanced Skin S-Lab 5 Set Pack is an option worth considering!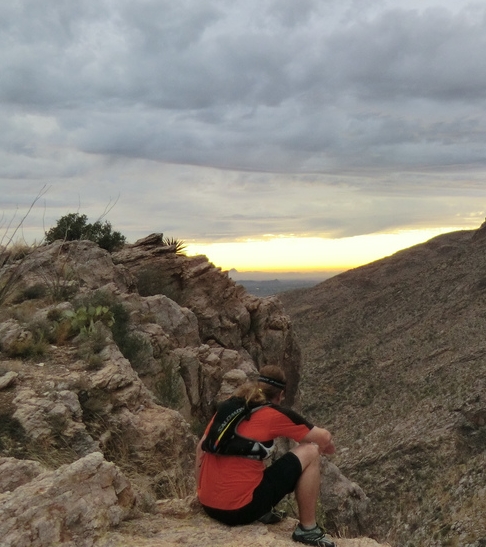 The author taking a break on the Pontatoc Ridge Trail with his Salomon Advanced Skin S-Lab 5 Set Pack.
Fit: The Advanced Skin S-Lab 5 Set Pack is a 'vest' style pack. It is designed so that the shoulder straps wrap around your rib cage and the pack bag/weight is higher and closer to your center of gravity than it would be in a traditional pack. This combination helps the pack stay comfortable and stable when running (be careful not to fit this pack like a traditional pack – getting a larger size than you need WILL cause excessive bouncing). Once you find your size the consensus from our staff is that it feels great and has minimal bounce when running! An important part of the feel of the pack comes from the stretch built into the harness. This is the first pack that I have used with significant stretch in the harness and I was skeptical at first – but I have to say that it really works – the pack stays pleasantly snug/secure without restricting my movement/breathing.

In this side view you can see the pack harness/shoulder strap wrapping around the ribs – quite different from the shoulder straps on a 'traditional' pack and an important detail that helps keep the pack stable and comfortable on the run. The side pocket is holding a pair of light fleece gloves.
We have had questions from women about whether the fit/style of this pack will work for them – while no pack/style is going to work for everyone we recently had a number of our female staff try this on-trail and it worked well for almost all of them!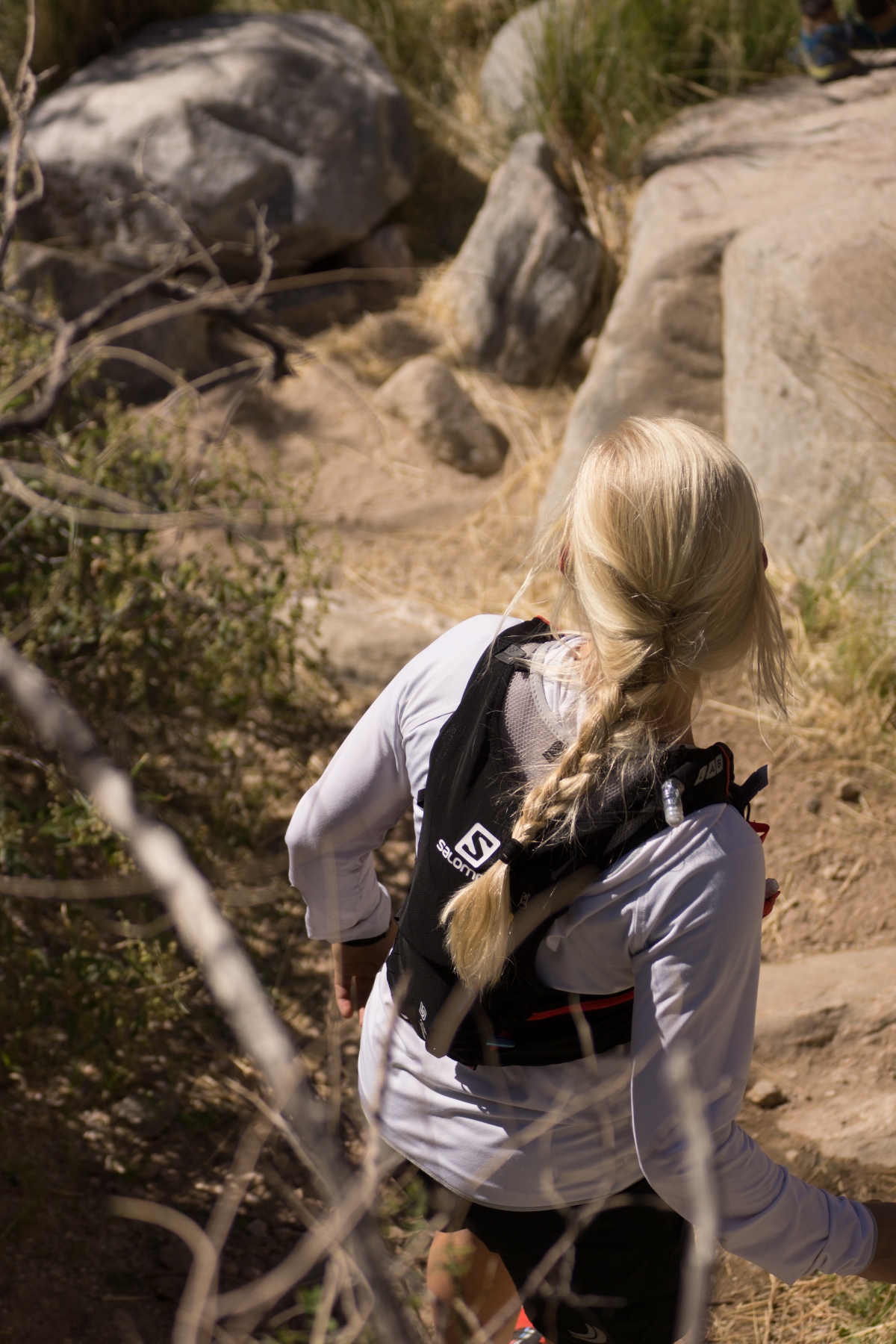 Emily with the Salomon Advanced Skin S-Lab 5 Set Pack on the Ventana Trail during a demo run – the pack worked well for her!
Storage: The pack's main storage pocket has a single vertical zipper and is made of a stretch fabric. I can fit my first aid kit, Montane Slipstream GL Wind Jacket, Montane Featherlite Wind Pants and just a bit more.

The main pocket – the vertical zipper is a change from the 2012 version of the pack and allows easier access to your gear. Note my Black Diamond Sprinter"headlamp"fitting nicely into the right side pocket.

Wind Jacket and Pants along with a small first aid kit fit comfortably in the main pocket – the stretchy material certain allows you to fit more in (and holds it securely – a great detail!), but it does get challenging to add too much more…
There are also quite a few smaller pockets to take advantage of including: two chest pockets (water bottles, Salomon Soft Flasks, camera, extra storage), an optional pocket that attaches with velcro to the shoulder harness (great for gels), two side zippered pockets (slightly awkward to reach, I use them for headlamp and gloves since I only need those occasionally/infrequently) and a small inner pocket (the pack comes with a emergency blanket in this pocket). By taking advantage of all of the pockets this small pack can carry quite a bit!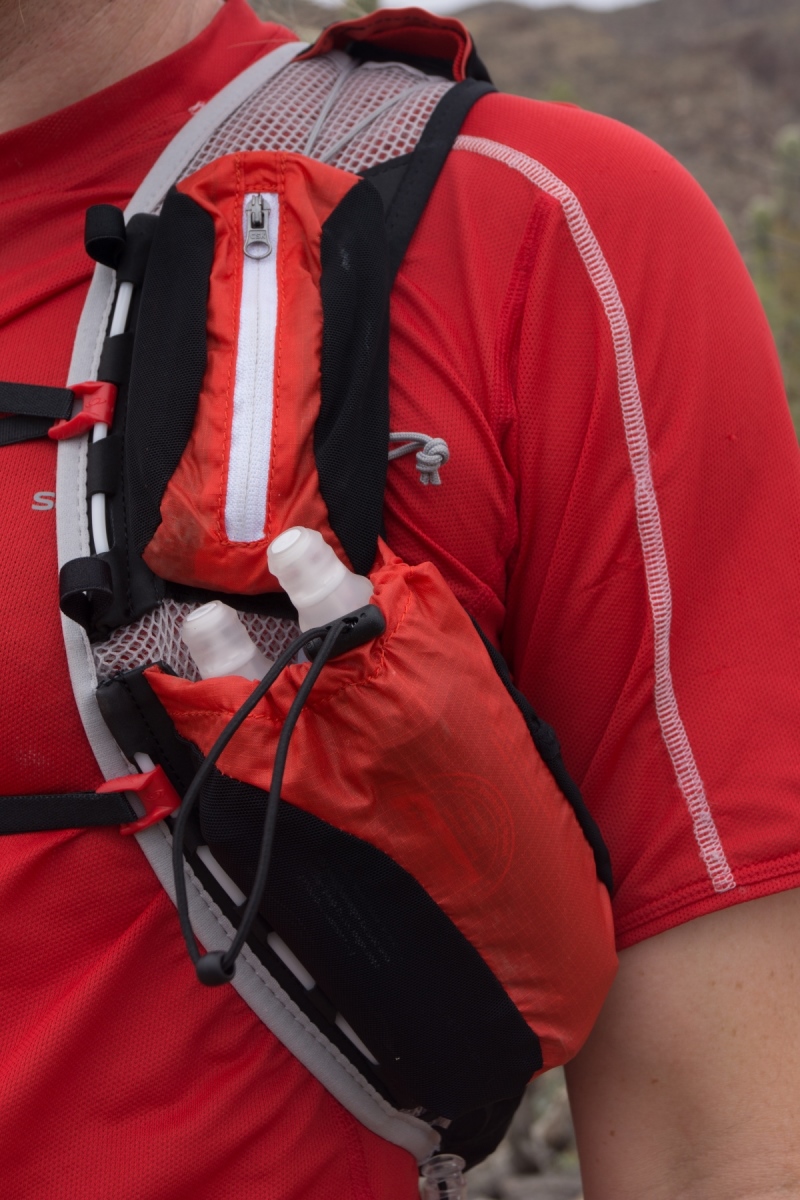 There are plenty of pockets on this pack to take advantage of – here the chest pocket has 2 8oz. Salomon Soft Flasks and the zippered pock has a gel and several Saltstick Plus Caps.
Hydration: A 1.5 liter Salomon/Hydrapak reservoir in a lightly insulted sleeve is included with the pack. The reservoir slips into a pocket next to your back. The insulated tube runs from the bottom of the reservoir, under your arm and along the shoulder strap. This configuration helps put the bite valve in a great 'ready-to-use' position. The reservoir is very easy to get in and out of the pack while leaving the hose in place – a great feature at an aid station but also nice for everyday cleaning and filling.
This pack has a list of small features/details not even touched on in this review – but to me the most important feature is the amazing fit/feel/carry – certainly something special. At a glance the small amount of storage space may seem too restrictive – but after using this pack for more than a year I have been surprised by how much I can do with it by taking advantage of all the pockets and being very thoughtful about what gear I take with me.
Notes:
-I like the bite valve that comes with the pack but I switched it out for a Camelbak Big Bite Valve on a Camelbak Hydrolink Filter Adapter – this configuration is slightly bulky but I like flow from the Camelbak Big Bite Valve and the Hydrolink Filter Adapter gives me an on/off valve and makes it very easy to take the bite valve off for easier cleaning.
-The Emergency Blanket that comes with the pack is great and very compact – if you loose/destroy yours we have found that the 1-person Heatsheets Emergency Blanket is slightly larger but fits nicely into the same pocket.
-The 2 front chest pockets are small for most 'hard' bottles – but two 8oz Salomon Soft Flasks or one 16oz Soft Flask fit into the pockets very nicely and are a great way to add some extra water (it takes a little effort to get the two 8oz Soft Flasks in – easier to do before you put the pack on).
-The first two pictures in this review are of the 2012 version of the Salomon Advanced Skin S-Lab 5 Set Pack that I started using in March of 2012 – I like the changes made to the 2013 version (different mesh for the harness, different chest pocket material, vertical zipper on the back) but functionally the 2012 and 2013 versions are very close.