Mt Wrightson looms large on the drive up Madera Canyon Road in the Santa Rita Mountains south of Tucson, and the hike to this towering summit from the end of the road is the signature outing in the area.
So, it can be easy to miss some trailheads near the mouth of Madera Canyon that access a loop trail which visits two of Madera's side drainages. Graced with several springs and tangled groves of white barked sycamore trees, oak, pine and fir – this is a lovely area to spend time in.
Sycamore cathedral near Bog Springs
A direct hike to Bog Springs requires a round trip of a little over 3.5 miles with an elevation gain of a just less than a thousand feet. The cathedral grove of sycamore trees around the spring is exceptionally beautiful and serene.
Walking the complete loop takes in Sylvester Spring, Kent Spring, and Bog Springs, adding another 700 feet of elevation, for a about a 6.5 mile round trip hike from the trailhead; a distinctly harder hike than the in-and-out trip to Bog Springs. On the loop hike, there are some nice long views out Madera Canyon as you traverse the steep slopes between Kent and Bog Springs.
Tramping uphill towards Sylvester Spring
Two trailheads serve this loop. The first trailhead (31.72681 N, 110.8803 W, WGS84) is on the east side Madera Canyon Road just past the turnoff to Bog Spring Campground. Marking the turn into the parking lot, a sign declares "Madera Trailhead, PICNIC AREA". In the parking lot, the trailhead is conveniently marked with another sign: "BOG SPRING TRAILHEAD".
The second trailhead (31.72225 N, 110.87943 W, WGS84) is just a few hundred yards up Madera Canyon Road, but here one parks in a parking lot on the west side of the road identified by a sign stating "Amphitheater and Nature Trail". The trailhead here is on the opposite (east) side of the road from the parking area.
Once on the trail, the loop junction is reached after a little more than a mile; turn left (east) towards Bog Springs, or continue straight (south) towards Sylvester and Kent springs.
Season: These hikes can be done year round. During summer months it can be hot here, so early starts are recommended.
Water: There is often water at Bog Springs, Kent Spring, and Sylvester Spring, but best to bring plenty of your own.
Difficulty: Easy to moderate if you choose to hike to Bog Springs and back; a little over 3.5 miles round trip with just less than a 1,000 foot elevation gain. Moderate if you walk the complete loop; just over 6.5 miles round trip with a 1,700 foot elevation gain.
Maps: Green Trails Maps – Santa Rita Mountains.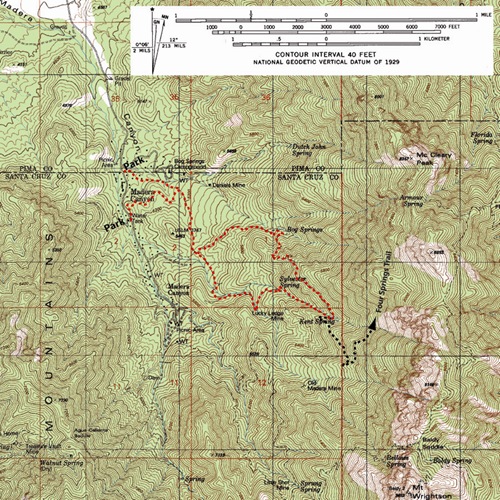 Click Map for larger image