Arizona peak baggers can be forgiven if they sometimes overlook Agua Caliente Hill. Bagging a "hill" doesn't sound quite right, and Agua Caliente does look a little insignificant when viewed from many places in the Tucson valley. Located on the far east side of the Tucson valley, Agua Caliente Hill is the high point sandwiched between the much higher Santa Catalina and Rincon Mountains.
Hill or peak? Agua Caliente Hill, east of Tucson
Forest Service Trail #46 provides a convenient and scenic route to the top of Agua Caliente Hill, though after reaching the summit, I guarantee you will question the use of the term "hill" in Agua Caliente's name.
This is a good hike. It starts on the desert floor and ends on a summit covered with grasses and dotted with oak and juniper trees. The trail tends to favor ridge lines as it climbs towards the peak, treating walkers to pleasant and always changing vistas.
Sonoran landscapes down low
Once on top, there is a lot to stare at, including unusual views of the Rincon and Catalina Mountains, as well as a look east across the San Pedro Valley to the Galiuro Mountains and distant Mount Graham. However, many hikers will choose to forego the climb to the summit, and instead enjoy a shorter outing on the very scenic lower stretches of the trail.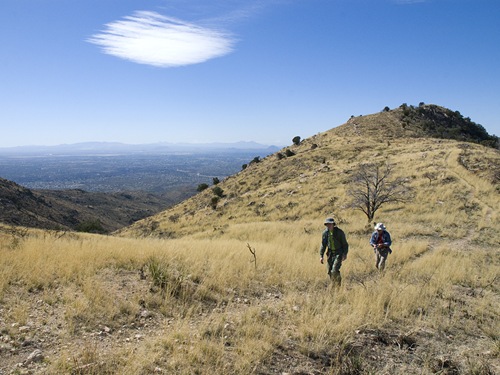 Grasses, oak and juniper up high
To reach the trailhead, follow Tanque Verde Road to the Tucson valley's far east side and turn left (north) onto Soldier Trail, and then about a mile later turn right (east) onto Fort Lowell Road. When Fort Lowell crosses Wentworth road, its name changes to Camino Ancho. Continue on Camino Ancho, and turn left on Camino Remuda, following it for about 0.3 mi before turning left (north) again. Watch for the Forest Service parking lot on the right (east) side of the road about 0.2 mile later. The trail leaves the north end of the parking lot and is marked with a sign: "AGUA CALIENTE HILL TR. #46".
After about 2.6 miles, the trail reaches a high saddle, and a trail junction with Forest Road #4445 which drops north into Agua Caliente Canyon. At the junction take the east fork and continue the climb towards the Agua Caliente summit, some 1.8 miles away.
Season: Fall, winter and spring. This hike can be hot, especially in the summer.
Water: None; bring plenty of your own.
Difficulty: Somewhat strenuous. The trail is about 4.5 miles one way. It climbs from around 2,970 feet at the trailhead to 5,369 feet at the summit, for a 2,400 foot total elevation gain.
Maps: USGS Agua Caliente Hill AZ, or National Geographic Arizona digital map software.