"What's a style statement?" asked a friend with his vague idea about fashion and styling. "To blend with the times and seasons we live with sheer comfort," we replied. said.
When it comes to fashion for men, long-sleeve t-shirts are underrated, whereas half-sleeve t-shirts are already piling up in your wardrobe.
Let me bust the myth here; the most comfortable men's t-shirts are the long sleeve t-shirt for a flattering look and harmonious appearance. Whether you are planning for a hike or want to go for a quick workout in the gym, long-sleeve top wears are a perfect combo of style and comfort. However, finding the best men's long sleeve t-shirts can be a herculean task for you. In this blog, we have smart choices of long sleeve t-shirts for men to pick from the collection we place our bets on.
Table of Contents
1. The North Face Men's Wander Long Sleeve
2. Columbia Sportswear Men's Silver Ridge Lite Long Sleeve Shirt
3. Men's KUHL Engineered Long Sleeve
4. Outdoor Research Men's Echo Long Sleeve Tee
5. prAna Men's Hooded T-Shirt
North Face has been a leading and promising brand for outdoor performance clothing and gear worldwide since 1966. This UPF protection and FlashDry™ technology-featured long-sleeve t-shirt from North Face is perfect for your next outdoor fashion collection. With its patented FlashDry™ technology, this t-shirt is for a sweatproof look to wick away sweat and keep you dry, fresh, and comfortable for long days in all outdoor activities without compromising style. Sun can be harsh to others, but not on you.
With this Ultraviolet Protection Factor (UPF) 50 long-sleeve t-shirt, you're unstoppable in any scenario. Designed for outdoor performance, this North Face Men's Wander Long Sleeve is a must-have for men. As a mountaineer or a regular daily routine for a sweatproof look, this lightweight jersey-knit fabric and ultra-soft natural hand feel with unimaginable comfort North Face Wander Long Sleeve should be in your wardrobe. You must explore the best men's long sleeve shirts for the summer collection here.
Price: $50.00 (After discount, $37.99, you must be lucky)
Columbia Sportswear, the American company that manufactures outdoor wear for hiking, trekking, and mountaineering for perfect performance activities, is a brand known to the world since its inception in 1938. With its promise and commitment, this Columbia Sportswear Men's Silver Ridge Lite is one of the best men's long-sleeve button-down shirts we picked for you.
Made with Omni-Wick Ripstop 100% polyester, it comes with a patented Omni-Shade™ UPF 40 sun protection for any time of the day for casual and comfortable wear. This long sleeve breathable shirt keeps bacterial growth at bay with the hidden vented back and antimicrobial treatment; sweat or no sweat; you will be free from bacterial infection and body odor. Its ultra-light feather-like soft and cool-wearing fabric gives extra comfort for 24X7 wearing, and yes, gives you an appealing look too. For a casual event or a semi-formal work environment, this would be one of the best men's casual long-sleeve shirts for you.
Price: $60.00 (After discount, $48.99, you must be lucky)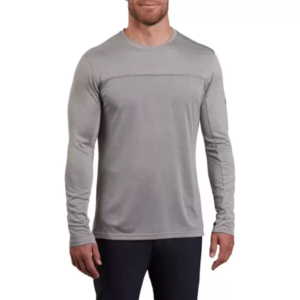 In the early 1980s in the mountains of Utah, the idea of perfect outdoor performance clothing and activities wearing gave birth to what we see today as the brand KUHL. With its rebellious philosophy to question everything, break the rules, and challenge conventional ideas, Kuhl has been committed to producing the best outdoor products for enthusiasts who challenge the harshest weather across the globe.
Tailor-made for hiking needs, this Men's KUHL Engineered Long Sleeve is not just for today but for tomorrow too. Patented ENGINEERED™ technology has everything an adventurer and outdoor enthusiast ever dreamt about. For men's outdoor clothing, this crewneck has two of KUHL's exclusive KÜHLDRY™ premium fabrics for UPF 30+ and UPF 20+ sun protection with breathability at the same time. The advanced high-tech design made it super-soft, lightweight, and naturally odor-resistant, with comfortable stretchable wear on all terrains.
This piece is undeniably the most comfortable men's t-shirt, has a premium fit, is moisture wicking, has high abrasion, and is snag resistant with low bulk seam for no-chafe, like feathers on your skin. Under this comfortable pricing, you will get a premium and clean look, perfect for everyday and outdoor wear. If you don't know where to find the finest collection of men's long sleeve performance polo shirts, then click here.
Price: $75.00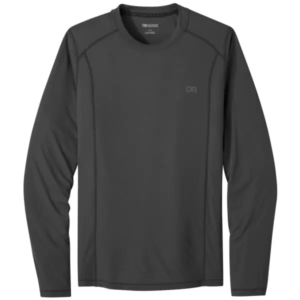 This Seattle-based manufacturer of technical apparel and gear is an excellent choice for men with a deep love and enthusiasm for outdoor activities like backpacking, paddling, alpinism, rock and ice climbing, and backcountry skiing and snowboarding. With advanced waterproof and breathable fabrics, insulation systems, and moisture-wicking technologies, Outdoor Research has been committed to building award-winning outdoor clothing with its Outdoor Research Infinite Guarantee® assurance of quality. This hi-tech-designed tee is one of the best men's hiking tops; you know why?
We handpicked this Men's Echo Long Sleeve Tee as the best basic long-sleeve tees designed for both outdoor activities as well as daily wear. This wonderful piece is suitable to wear as a single summer layer and base winter layer for better stretch and an improved fit to let you move the way you like. Crafted with a patented bluesign® approved 100% Recycled Polyester fabric, this men's outdoor clothing long-sleeve tee is more durable and softer feel with increased comfort, and lasts longer than ever, just like you.
This dependable ActiveFresh™ Odor Control and AirVent™ technologies fueled tee is one of the best-fitting men's t-shirts to make sure you stay dry and sweat-free all day and night. Outdoor Research Men's Echo Long Sleeve Tee, a combination of comfort, durability, and style, also keeps you protected from the harsh sun with its UPF 20 protection and prevents fraying due to Flat-Seam Construction.
Price: $52.00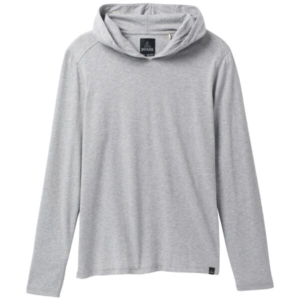 We cannot leave prAna behind in our hunt for the best breathable long-sleeve shirts. Made for comfort, style, and a nature-like feel, prAna is a must-have brand for any outdoor adventure enthusiast. Inspired by nature, prAna — the sustainable and ethical lifestyle clothing for yoga, travel, and outdoor adventures that promote the fine blend of harmony between the inner and outer worlds. Committed to giving back to Mother Earth, it brings unique patterns and distinctive aesthetics in its sustainable and stylish activewear.
prAna Men's Hooded T-Shirt is a perfect blend of style in activewear that comes in 5 variants of colors and sizes for you to pick and stand out from the crowd. Made with organic cotton into recycled polyester, this lightweight jersey is something that ticks all the boxes of style, comfort, and elegance. Crafted to make casual wearing more stylish and comfortable, you can pair this hooded T-Shirt with blue denim or track pants.
Price: $54.95
The Bottom Line
When we search for the best men's long-sleeve shirts, there you have it. Our team picked the top 5 best brands and their t-shirts for you in this list. Of course, the list is endless when it comes to men's outdoor clothing and long-sleeved t-shirts and shirts; however, you have to be careful and pick the one that compliments you and your style with comfort. We hope you will add some of these editor's choices to your wardrobe before you plan your next adventure trip. You can also check out exclusively selected fine-styled, the best long-sleeve t-shirts for women here.