This is how much I love Paradise Forks, a climbing area at the upper reaches of Sycamore Canyon about an hour outside Flagstaff: when friends and I were driving the four hours from Tucson to get there, we didn't even turn on the radio; we just bounced up and down on the car seats yelling, "Forks! Forks! Forks! Forks!" It's a hysterically magical place.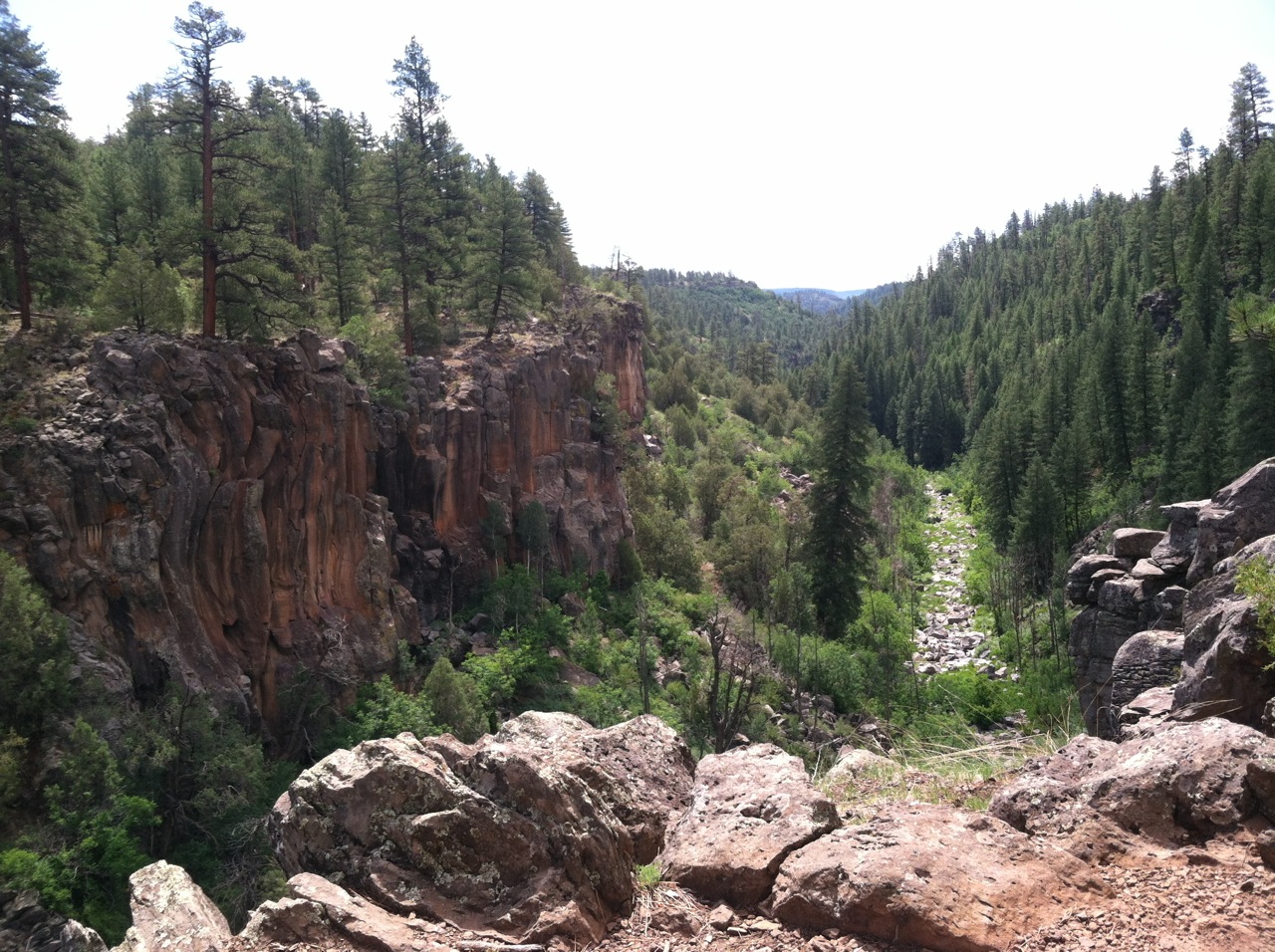 The view from the Prow at Paradise Forks shows the vast canyon network below
And it's not just for climbers. Sycamore Canyon cuts the northern tip of the Mogollon Rim into a deep V with basalt cliffs plunging 150 feet to a riparian creek bed below. It's stunning, with seasonal falls filling the Gold and Silver Ponds in each upper reach, draining around the fortress of the Prow, where the rock shifts in color from orange to black. Though the falls don't run in summer, the temperature is lovely, especially in the shade of high ponderosas. Climber trails lace the cliff edges to access climbs, but they also provide amazing views to hikers. Tagging this vista, the Sycamore Rim Trail continues in an 11-mile loop at the upper reaches of the canyon, flat until a 1,000 foot climb up KA Hill and back down. Other trails like Kelsey Springs and Little Lo explore the canyon bottom, which is 21 miles end to end and 7 miles at its widest point, hiding polished white box canyons, springs and meadows.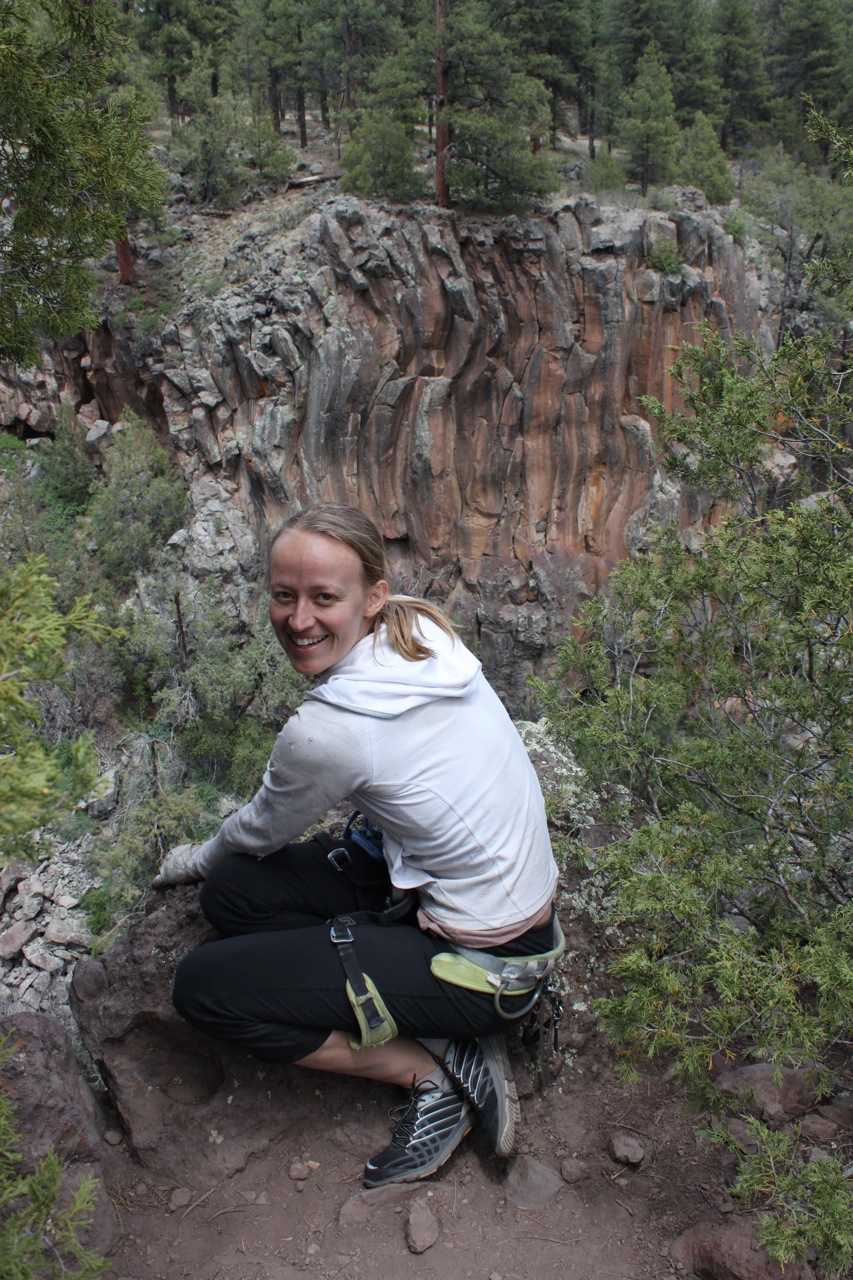 Friend and climber Clare Stielstra checks out lines on the Sine Wall across the way
But Paradise Forks is, well, paradise. The basalt cliffs that line the top of the canyon are split with vertical cracks, ruled like notebook paper, and the style of climbing done here is unique. Rather than holding on to the rock, most of the time you're fitting into it, squeezing hands, knees, elbows, sometimes whole shoulders into the crevices. Equally unique, every climb can be top-roped, freeing scaredy-cat climbers like myself from the pressure of leading and letting us just play.

A climber gets swallowed by Supercrack above the Gold Pond in Paradise Forks
Every climb is its own physical poem, a vocabulary of moves that I search for in the same way I scan my brain for the right word. A climb like Supercrack (5.9) starts with a finger-width slit at the bottom, gradually widening to a chimney you can fit your whole body inside, so that every few moves you're adding something to the space: fingers, then flat palms, then closed fists, then you're shuffling up with a knee and an elbow in a move delightfully called the "chicken wing." Or there are climbs like Tangent (5.10) that work like stanzas: an orange corner like an open book with a thin crack in the binding, then you hoist yourself to the top of a pedestal; another, entirely different thin crack on a grey face and another pedestal; then a swooping curve next to a swallow's nest. Or Raindance (5.10), a solitary climb on a buttress between broken columns, where the rappel to the canyon bottom feels like dropping into a rainforest, lush and quiet. You pull out from under a roof onto a thin crack, a movement that seems to take a small miracle, and then you just breathe, listen, and fit your hands into the network of cracks that comes next. There's a clear-headedness that comes with crack climbing for me. Because the route is obvious, drawn on the face itself, I stop thinking about where I'm supposed to go next and just take one move at a time. And suddenly the grade doesn't matter, and the fact that I'm top-roping and not leading doesn't matter, and what other climbers are gabbing about across the canyon doesn't matter. It's just the joy of movement and the beauty of the canyon, and suspended in the middle of a rock face these are the only things that exist.
How to get there:
Take Route 66 west out of Flagstaff and continue on when it turns into I-40 heading towards Williams. Take exit 178 south onto Garland Prairie Road, which quickly turns to gravel but is passable with low-clearance vehicles. This road takes a sharp right curve heading into a huge meadow where cattle and sheep are grazed, and in the woods beyond watch out for elk and deer. Turn left on F.S. 527, which leads to trailhead parking for Paradise Forks / Sycamore Falls and one of the five access points for the Rim Trail (for others, visit the Forest Service website here: http://www.fs.usda.gov/recarea/kaibab/recreation/hiking/recarea/?recid=11674&actid=50). White Horse Lake, stocked with fish, is just another minute down the road.
Guidebooks:
While the Falcon guide Rock Climbing Arizona covers most of the Forks, it excludes the Sine Wall, in my opinion the most beautiful section where the rulebook-straight cracks meld and curve into one another. For a more comprehensive guide, check out A Cheap Way to Fly: Rock Climbing Guide to Northern Arizona by Tim Toula.