I love off-trail hiking. The mental and physical challenges of picking a way through unmarked wild country are very satisfying, in spite of the fact that off-trail travel is often slower and almost always leaves marks in the form of abraded skin and gear.
And I love the Sierra Nevada of California, especially the high alpine country in the southern portion of the range from Yosemite National Park down to Mt. Whitney. In summertime the Sierra high country dazzles with sparkling lakes, high peaks, and brilliant white snowfields. Summer weather is generally good; in fact one might almost characterize it as arid. However, for a desert rat like me water is seemingly everywhere, the result of melt from huge winter snow packs.
Evening light in Lake Basin
It was with great interest in the mid 1980's that I first read about the Sierra High Route, a mostly off-trail route that runs along the spine of the Sierra Nevada for 195 miles, most of its length spent above 10,000 feet, near or above timberline. Conceived by climber and historian Steve Roper, the route is detailed in his book, Sierra High Route: Traversing Timberline Country.
Over 20 years slipped by before I was able to get my act together to hike the Sierra High Route late this summer. I partnered up with my sister Brenda Baker (San Diego) for the trip. Unable to carve out enough time to walk the entire 195 miles, we decided to spend 8 or 9 days spanning late August and early September walking the southernmost portion of Roper's cross country tour. This proved to be a great time to be out in the Sierra — mosquitoes were absent, having politely retired for the season; and the high passes we crossed were mostly snow free, greatly simplifying travel through them.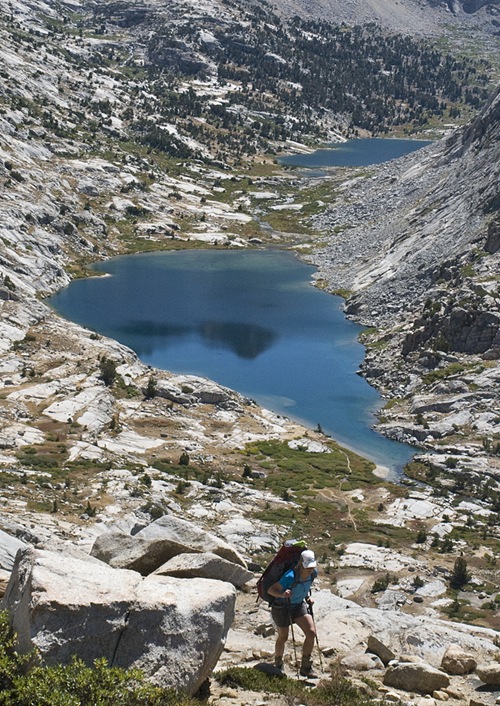 Climbing above the Palisade Lakes
Brenda planned our eight and half day itinerary and applied for our wilderness permit. Rather than walk as far along the route in 8 days as we could, she created a more leisurely plan for a 54 mile trek from Kings Canyon, north to the South Lake trailhead outside the town of Bishop. This gave us time to make several side trips along the way, including ascents of two high peaks.
Using TOPO! software, and referring to Roper's book, I marked our maps up with 40+ waypoints designating various lakes, passes, and other key landmarks along the route and printed them out for the trip. We decided not to carry the guide book with us, and though the maps provided enough information for relatively efficient navigation, we were left with plenty of enjoyable route finding puzzles to figure out on our own.
It's hard not to gush about the Sierra High Route. The 50+ miles we walked are absolutely superb, yielding a feast of challenging hiking in awe inspiring wilderness landscapes. Roper's route is exceptionally elegant; climbing, traversing, dipping and weaving through a stunning array of peaks, lakes, ridges, cirques and passes. I can hardly wait to return to walk the next 150 miles.
The Palisade crest from the top of Mt Agassiz (13,893')
Additional notes:
Our entry point was the Copper Creek trailhead in Kings Canyon National Park, so we used the Wilderness Permits & Reservations page for Sequoia and Kings Canyon National Parks on the NPS website to get permitting instructions.
The Sierra High Route passes through bear country. Learn more at sierrawildbear.gov. Find specific bear resistant food container requirements for various National Forests and Parks along the route here.
If you pass through Bishop, take time to visit the good folks at Wilson's Eastside Sports, one the country's nicest outdoor specialty stores.