I sometimes wander back to the maps area at Summit Hut and stare at all the amazing trails around Tucson that I haven't yet explored. For months, I've had my eye on the West Fork trail between Sabino Canyon and Romero Pass. The trail traverses the massive and remote Sabino Basin, flanked by the Catalina foothills on the south and Mt. Lemmon on the north. This segment of the trail is too far into the backcountry for the kind of shorter day hike I like, so it remained inaccessible to me until I could find time for an overnight backpacking trip.
In early April, my girlfriend Murphy and I had two days off in a row together (an unfortunate rarity this past spring). I had been looking for an excuse to try camping with a tarp and Murphy had just gotten a new sleeping bag, so this seemed like the perfect opportunity to explore the West Fork Trail with an overnight backpacking trek. We decided to start in Catalina State Park and hike Romero Canyon up to Romero Pass, where the Romero Canyon Trail intersects the West Fork Trail and drops down into Sabino Basin. I had heard rumors of a beautiful backcountry campsite in the Basin below the pass where the Cathedral Rock trail runs into the West Fork Trail. We'd stay the night there and then hike out to the Sabino Canyon Trailhead. The plan was to leave a car in the Sabino Canyon parking lot and have a friend drop us off at Catalina State Park (short backpacking trips in the Catalinas usually involve car shuttling of some sort).
After coffee and bagels, our friend Elijah dropped us off at the Romero Canyon trailhead at 8:30am (thanks, Elijah!), and we set off. An unfortunate heat wave had struck: highs were predicted in the mid-90s, and it already felt very warm. The first hour or so to Romero pools was hot and the sun was merciless, but we persevered with the promise of a cold dip in the pools.
There was a bit of a crowd when we got to where the trail intersects the pools, but we hiked down the creek for five minutes and found a deep pool where we could skinny dip in solitude (sorry, no photos, this is a family blog!). In spite of the heat, the water was so cold it took our breath away and we could only stand a five minute soak. Feeling refreshed, we had a snack, refilled our water and continued on our hike.
About water: I don't like a heavy pack, so I try to plan trips with only short distances between water sources. We knew that the first day in Romero Canyon, we'd always be within a mile from water, so we never carried more than a liter each at a time through the canyon. The catch was that when we left the canyon bottom to climb up to Romero pass, the water would stop and we would be unlikely to find more until the next day at Hutch's pool. So before leaving the canyon, we would need to fill up enough water to get us through the end of our hike, dinner, breakfast (and coffee!), and the three mile hike from our camp to Hutch's Pool.
But I'm getting ahead of myself. We continued up the canyon, stopping occasionally to refill water and get our heads wet — it was murderously hot for a couple of fair-skinned redheads. The heat slowed us down and it took us much longer than expected to finally get out of the low desert and into the shady oak and pine forest that I knew awaited at higher elevations in Romero Canyon. At long last, we reached a large scrub oak grove where a nice campsite was tempting. Another rest, some more head soaking, and some lunch brought us back to life.
Tempting as it was to linger in the shade, we needed to press on because I wanted to reach camp before dark, and we still had to climb to Romero Pass. As we hiked, the creek dried up without our noticing. When we realized that we hadn't seen water for some time, we faced a difficult decision. We had not reached the planned fill-up point where the trail leaves the canyon and climbs up to the pass. Looking at the topo map, it seemed that the trail had momentarily left the main creek and wandered into a side creek that was dry. It looked as though we'd reconnect with the main creek again before beginning the climb to the pass — but would we find water there? We could either press on and hope to find water again, or backtrack to the last point where the creek flowed. Continuing on was tempting as it's never fun to backtrack, but we risked a much bigger backtrack if the water didn't reappear. So we backtracked around 20 minutes until we reached water, and I filtered 10 liters of water to get us through the night. Our packs felt much heavier after this!
After the nearly hour-long detour, morale was low. But we psyched ourselves up to keep going with the promise of higher elevations and cooler weather. Another 40 minutes brought us to the point where the steep climb to Romero Pass begins. And lo and behold the creek reappeared, right where it was supposed to — we could have filled up our water there after all. I think our conservative decision to backtrack and fill up was the right one, but sometimes the right decision is the wrong decision! We got a second wind and cruised up the climb to the pass and were treated to high cool winds and stunning views of Sabino basin. From this point on, we really began to enjoy ourselves.
We were excited to see the views, but we were also excited to see the sign marking the junction with the West Fork trail, which meant we were only 30 minutes from camp.
We descended into Sabino Basin in the shade with Cathedral Rock towering above us to the south. About 45 minutes before dark we reached the bottom of Sabino Basin and ran into the intersection with the Cathedral Rock trail, which climbs steeply out of the canyon to Cathedral Rock. As promised, a wonderful campsite awaited us, with a special treat in the fire pit.
I set to work setting up our tarp. After 20 minutes of fiddling, Murphy ordered me to stop so we could start to get dinner together. The tarp went up reasonably well, but it's a pain to plant stakes in our rocky soil. Still, a little extra work with stakes is well worth carrying a one pound tarp instead of a four pound tent (you can get tarps as light as 6 ounces, but I didn't want to spend serious money until I was sure I liked tarping).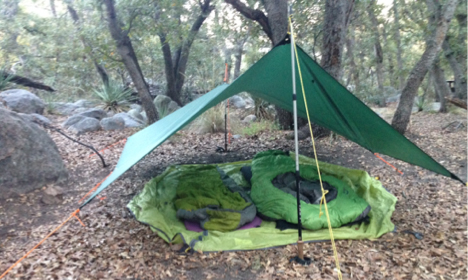 Dinner was simple but extremely delicious: instant mashed potatoes with hot Italian sausage. We cooked the sausage the night before at home and brought the potatoes in quart-sized bags that we rehydrated them in and ate out of: no dishes to wash! We went to sleep early and fell asleep quickly to the sounds of the forest.
Murphy slept so well in her new Backcountry Bed sleeping bag from Sierra Designs that I practically had to drag her out the next morning!
We ate a quick breakfast of oatmeal and coffee and set off. The day started with the segment of trail I had been dreaming about: through Sabino Basin between the pass and Hutch's Pool. It was just as neat as I had imagined and felt very remote and wild. Rather than attempt to describe it, here are some pictures that I hope do it justice.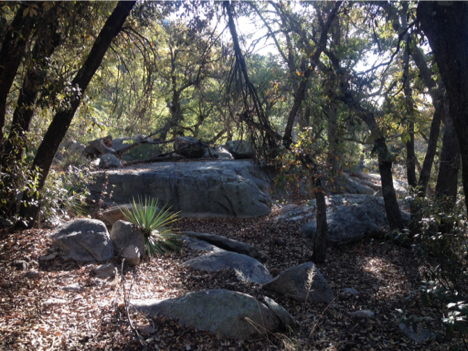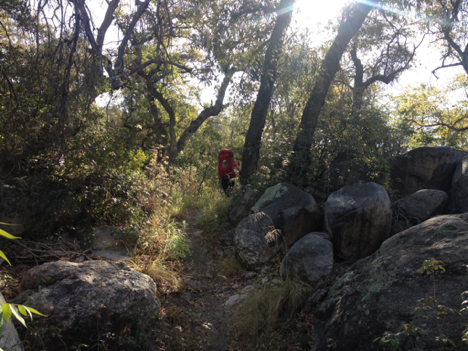 The water we had collected the previous afternoon lasted us well, but we were excited to reach Hutch's pool and fill the tanks again. By this time, it had begun to get hot again, so we punched it into overdrive and finished the hike to Sabino basin quickly and were back at our car by 1:30pm.
In spite of the heat and water uncertainties of the first day, the trip was amazing. The West Fork Trail was everything I had hoped. I would highly recommend this backpacking trip to anyone looking for a quick overnight trip into some pretty remote Catalina backcountry — just do it in cooler weather!
As always, if you need help planning or outfitting your trip, stop by Summit Hut!