Introduction
Gone are the days when women wore just heels, wedges, and stilettos. The modern woman is comfortable wearing all kinds of footwear based on their purpose, including protective work boots. The entire ecosystem of work boots has significantly evolved from what it used to be. With the advent of technologies like Vibram, Goretex, and breathable mesh lining, women don't have to worry about standing all day with their shoes on.
Through this article, we will throw light on all the different aspects of work boots, including their types, protective features, and the best ones from the lot. As a bonus, we have also answered some FAQs at the end.
Types of Work Boots for Women
There are three main types of work boots for women, according to the material they are prepared from.
Let's take a quick look at them.
Safety Toe Work Boots: These work boots are prepared using composite, steel, and aluminum. Women working in the construction industry would need to wear these shoes. They can also be a great choice for airports, transport, and logistics industries. They are particularly recommended for people working at busy and fast-moving workplaces. These safety boots prevent slips, trips, and falls, thereby keeping you safe at work and elsewhere too. In case you have to be on your toes all the time while at work, choose work boots with traction and proper thread.
Steel Toe Work Boots: Steel toe work boots are safety boots, also named steel-capped and steel toecaps. Women dealing with the risk of falling objects and compression should go for steel toe work boots. These shoes feature an internal toe box protected by heavy-duty steel or compound materials. They provide you unmatched protection from compression, impact, and puncture.
Moreover, if you are working at places that have significant electrical hazards, you must go for composite toes. Of course, steel is concealed by rubber or leather to prevent electric shocks but it can lead to injuries if the workers are exposed to static electricity. Composite toes are the best for women electricians.
Safety Slip-resistant Work Boots: Slip-resistant safety boots are best for healthcare workers, kitchen and waitstaff, industrial workers, and factory workers. These women's shoes come with special soles that reduce surface slickness and prevent slips. Slip-resistance ranges from improved grip performance to multidirectional slip resistance.
Protective Features of Women's Work Boots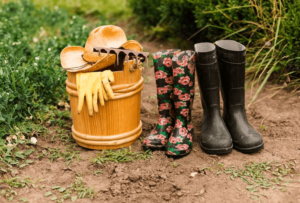 Besides being comfortable, stylish and lightweight, work boots must have certain protective features to impart safety to women at work.
Here are the most important protective features you should check for:
Safety toe guards: According to the American National Standards Institute, safety footwear must protect against impact and compression. There should be a clearance of 15/32" inside the toe area for women's footwear after the completion of the tests.
Metatarsal guards: Metatarsal guards help in protecting the upper foot and toe area from potential drop hazards. You can attach metatarsal guards to safety boots internally as well as externally. Every foot has 26 bones. Protecting these bones is of paramount importance so that you can avoid pain and long-term injury.
EH (Electrical Hazard) safety features: EH rated footwear is engineered to protect the user against open circuits up to 600V. These ladies work boots have a heel and sole that's molded as a single piece to the upper boot without using any nails or metal.
Slip-resistance: The soles are designed to protect against slips due to water, oil, or any other substance that can otherwise lead to falls.
Durability: Wear resistance is one of the most important features of any safety shoes. Make sure you choose the right type of work boots that match the working condition.
With that said, let's take a look at the most impressive work boots for women.
5 Best Work Boots For Women of 2023
How Much You Need to Pay – 
Whether you are looking for work boots suitable for rugged day hikes, long days at work, or weekend backpacking trips, LOWA Zephyr GTX Mid has got you covered. These boots have a higher PU MONOWRAP® frame for best stability and support with no additional weight. It also has a lugged outsole for proper traction. The GORE-TEX waterproof/breathable membranes keep your feet dry.
| | |
| --- | --- |
| Pros | Cons |
| The boots are extremely comfortable and have a shorter break in period  | The soles could be a bit more durable |
How Much You Need to Pay – 
The LOWA Baffin Pro LL II is an updated version of the hardworking Baffin Pro. It has a new outsole and rand with updated hardware. It offers great performance on- and off-trail. These boots are perfect for hot and dry summers, making them ideal for wildland firefighters. The Vibram® AppTrail outsole provides unmatched traction on all kinds of terrains. They are leather-lined and apt for usage in dry climates. The unique tongue lacing system makes these boots comfortable for long working hours.
| | |
| --- | --- |
| Pros | Cons |
| They provide immense support and comfort to the wearers | They are not waterproof |
| | High pricing |
How Much You Need to Pay – 
With a bi-injected DynaPU® midsole for unmatched rebound, durability, and cushioning, the LOWA Innox Pro GTX TF is a lightweight, all-synthetic tactical boot. It has a PU MONOWRAP® frame that offers lateral stability. It comes with a hiking boot's reliable traction and support. It has closed lace hooks for security and toe and heel caps for additional protection. The triangular profile design helps in ideal slip resistance and traction on various surfaces and in moderate terrain. The rubber outsole is flexible and abrasion-proof.
| | |
| --- | --- |
| Pros | Cons |
| Highly breathable, 100% waterproof, and optimally tailored fit | The price is on the higher end |
How Much You Need to Pay – 
LOWA R-6 GTX TF are sturdy work boots with a one-piece toe design and a full-grain, smooth leather upper. It is perfect for uniform purposes and tough conditions. Closed lace loop system has a locking lace loop at the ankle so that you can adjust different tensions between the ankle and foot. An injected DuraPUTM midsole has a shadow-style wrap frame and stealth-inspired rubber outsole to ensure all-day support, comfort, and slip-resistant grip on diverse terrain. The special tread design at the toe and heel offers improved traction on uphills and downhills. It is durably waterproof and breathable.
| | |
| --- | --- |
| Pros | Cons |
| Extremely durable and comfortable to wear | Slippery on ice and requires frequent lacing replacement |
How Much You Need to Pay – 
LOWA R-8S GTX Patrol is a rugged boot with 8" shaft. It offers incredible ankle support and protection on rough terrain in a plain-toe design aligning with AR 670-1 requirements. The outsole has 5mm deep lugs for proper traction on dirt and mud. It is resistant to slip, heat, fuel, and oil, and offers insulation against heat and cold. As it has adequate padding on the top of the R-8S Patrols, surrounding the lower calf, it offers comfort as well as protection. The lace-locking system is absolutely on point.
| | |
| --- | --- |
| Pros | Cons |
| Plenty of toe room and short break-in time | Extremely slippery on ice |
| Lightweight, waterproof, and highly breathable | A bit expensive |
How to Choose the Right Women's Work Boots?
You must consider several factors while choosing work boots for women. They are:
Comfort: You will have to wear the work boots for a prolonged time. So, make sure they are made up of breathable materials and have padded collars and insoles. They must be comfortable and keep your feet dry.
Traction: See whether the soles provide good traction so that it prevents slips and falls, particularly on slippery or uneven surfaces.
Support: Invest in a pair of work boots that have good arch support and a stable heel. It will help prevent foot and ankle injuries.
Safety features: According to your job requirements, go for work boots with metatarsal guards or puncture-resistant soles.
Sturdiness: Durability is one of the most important features when it comes to work boots. You will be wearing them all day long, almost every day. So, they should be designed with high-quality materials.
Buying Points of Construction Work Boots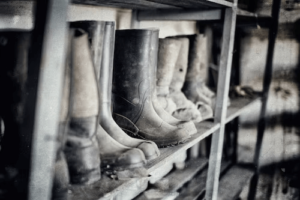 Working at a construction site means risk of falling objects, walking on concrete, exposure to hazardous liquids, and dealing with high electric machinery.
So, your safety boots or work boots ought to have the following features.
Rubber outsole that protects against abrasion and slips
Padded top collar and a polyurethane midsole to keep your feet comfortable throughout the day
Cast metal top hooks for maximum durability
Open-cell polyurethane footbed with antimicrobial treatment for comfort and odor management
Safety toes to protect the feet against falling objects and other hazardous materials
Electric-shock resistance – EH rated work boots
FAQs for Women's Work Boots
1. What style of work boot is best?
Answer 1: Heeled or wedge sole designs are the best for work boots for women. They offer additional support, preventing slips and falls even on slippery surfaces. Also, go for boots that are breathable and waterproof so that you can use them in all weather conditions.
2. What are the most comfortable boots for standing all day?
Answer 2: If you are a nurse or construction worker, you must invest in Keen utility shoes that offer unmatched comfort even while standing all day. Choose a spacious toe box to prevent cramped feet. Check for features like cushioned insoles for women and flexible uppers so that your feet stay comfortable while walking, running, or standing.
3. What brands are best for work boots?
Answer 3: Keen, Topo Athletic, Timberland, and Salomon are among the best brands for work boots. They have useful features like breathable mesh lining, Vibram outsole, and GTX lining.
4. How do I find comfortable work boots?
Answer 4: You will be able to find comfortable work boots in exclusive online stores like Summit Hut. They have a variety of boots for women and you can choose according to your needs. Alternatively, you can walk in a physical store too if you want to try before buying the work boots.
Related Posts: