Aravaipa Canyon is one of the best kept secrets in Southern Arizona. With its towering canyon walls, lush vegetation, abundance of wildlife, and the ever flowing Aravaipa Creek, it is a wonderland waiting to be explored.
Aravaipa Canyon is a protected Wilderness Area. Only 50 people a day are allowed to enter the 12 mile canyon and you need a permit for all activities, even day hiking. Permits are distributed through Recreation.gov (search Aravaipa Canyon Wilderness Permits). Permits are released 13 weeks in advance and weekend permits sell out very quickly. You'll have a much better chance getting permits if you plan to go on a weekday.
Earlier this year I was lucky enough to snag a weekend permit for 3 days (2 nights), the maximum you are allowed. I was joined by Jeremy (Oro Valley Store Manager) and Lylah (Summit Hut Gearhead) for a fun weekend backpacking and exploring the canyon for the first time.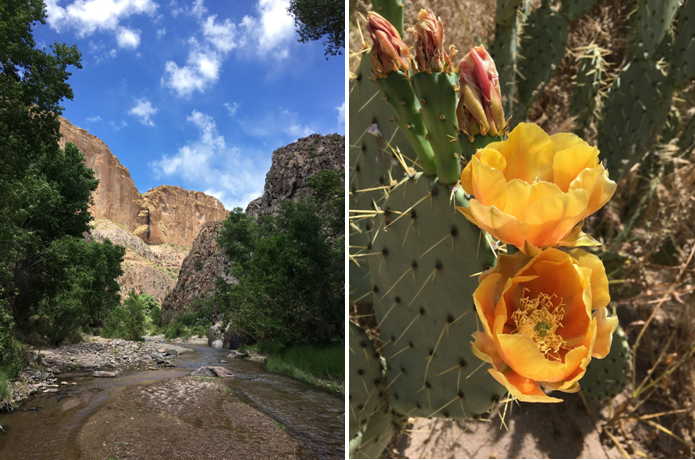 We entered at the West Trailhead after driving 12 miles down a paved then dirt road off of Highway 77. We made sure we had all of the right gear, including sun protective shirts, sleeves, hats, and gaiters to help keep sand and rocks out of our shoes while walking in the creek. I recommend wearing a lighter weight shoe, perhaps an older pair you don't mind getting dirty. I wore my go to hiking boots, the Vasque Breeze III. Lylah wore her La Sportiva Bushidos and Jeremy wore another lightweight trail running shoe.
One thing to know before you go, you will get wet. You can try to criss cross the creek and walk on dry land but it is definitely easier to just stay in the water. I would also recommend using trekking poles to help you stay balanced while walking in the water and hiking over rocks and ankle-turners.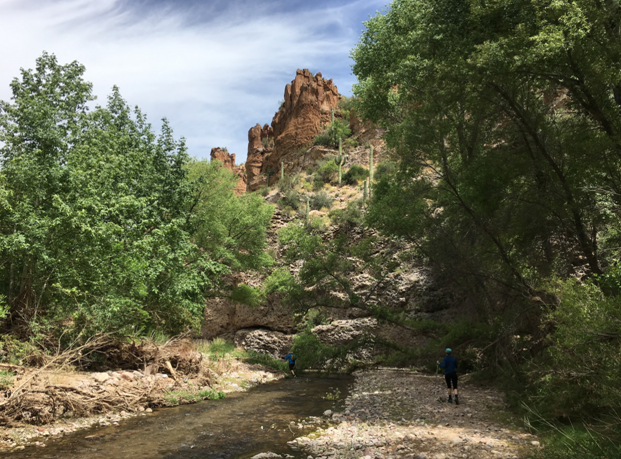 Our goal the first day was to hike in to Booger Canyon. From there we would set up camp and spend the next two days exploring the side canyons. On our list were Booger Canyon, Paisano Canyon, Horse Camp Canyon, Virgus Canyon, and Hell's Half Acre Canyon. Keep an eye out for those side canyons. Despite having large openings, some of them are easy to miss!
Each side canyon was beautiful in its own way. Paisano Canyon had a peaceful pool with a waterfall. Booger Canyon had rocks and boulders to climb over. Horse Camp Canyon had beautiful pools surrounded by flowers and layers of rock. Virgus Canyon had large boulders to scramble over and deep pools of water.
Horse Camp Canyon
The second night we camped across from Horse Camp Canyon under a big beautiful tree. We were lucky to have cooler, overcast weather during our trip. The second night we even got some rain even though the weather report said there was only a 10% chance of rain. Just another example of why you should always be prepared for anything. I unfortunately left my hiking pants, boots, and socks out overnight to dry and when I woke up they were soaking wet. I count that as another learning lesson in the backcountry.
When you plan your first trip into Aravaipa Canyon, my advice is to take your time and explore. Don't be in a rush, stop and see what you find. Scramble over some rocks, really discover this beautiful canyon. I felt like a little kid for 3 days, playing in the water, looking for tadpoles, listening to the call of the canyon wren overhead, trying to find a coati (which we did!).
Aravaipa Canyon is a must do for an unforgettable hiking or backpacking trip. I plan to make this a yearly trip, there's that much to see and do!