Summit Hut Gearhead & Contributing Blogger- Summit Hut Oro Valley Store Manager, Jeremy Asher.
February 1st is coming up fast, and you know what that means… This is your opportunity to secure some much sought after Havasupai Permits!
I had the chance to go and visit Havasupai for the first time several years ago and I've been rearin' to go back ever since. Over the last few years, soooo many people have been coming into the shop getting ready for their first-ever trip to Havasupai. For some of those folks, it's just another backpacking trip to a unique and interesting place. But for others, this will mark their first-time backpacking… ever! And that can be pretty intimidating.
So that got me thinking… what would I do differently (or the same) for my next trip to Havasupai… ?
You may have heard of Havasupai from a friend, or a friend-of-a-friend; but since we're all living in the future now, a ton of folks come across it while they're casually perusing Instagram. This beautiful destination attracts people through photos, and the allure is hard to shake. That being said, this isn't a guide to all things Havasupai. This is a short-and-sweet summary of things I would've done differently (by category) and things I wish someone told me before I took off on my trip.
First Off: Trekking Poles
Listen, I know it's not "cool" to use Trekking Poles. But you know what? I think in 2020 it has gotten a lot cooler than it was 10 years ago. I admit, I used to be too-cool-for-school, too. But after many injuries and a reconstructed knee, you know what's really cool? Trekking Poles! Now this hike doesn't require poles, but it'll make your life substantially easier with the switch-backs you'll encounter. Heading down into the canyon the poles will save your knees– and climbing out won't burn near as much. The rest of the hike is pretty gradual, but the poles will definitely help to propel yourself Nordic-style if you're looking to cover some ground a bit quicker.
What do I use? —I've got a pair of Leki Micro Vario Carbon Foldable Trekking Poles. These run about $250 retail. They're quick, light, and fold super small. I use them a lot, so I was able to justify the cost, but I think going for any type of trekking poles (so long as you're using a pair) is great idea. Telescoping poles are now considered old-school, but they are still very light and very functional. Highly recommend.
Food Storage
If you've ever been to a busy National Park, you've probably met some gutsy squirrels. Havasupai is no different. These are some of the most tenacious squirrels out there, and they know people = food. During my trip, a friend left food in his pack then threw the pack inside his tent while we went on a little side hike. When we got back, we found the tent that had holes on 2 sides of the body and the backpack was now sporting a gaping hole straight through into his food bag. Not cool!
So, what do you do to save your food from being eaten by these little ones? First off, it's always good to hang your food, I think this is an obvious one. Aside from that, there are food storage bag options…
What do I use? —I use OP Sacks by aLOKSAK. The 'OP' stands for 'Odor Proof' and they are a resealable, overbuilt, ziplock bag of sorts. I kept running into people using metal-mesh food storage sacks, and I just wasn't into it. They're heavy and bulky. Not my thing. So far, I've had a 100% success rate with these bags. They are sold in a 2-pack of the sizes that are offered. I use the larger 12" X 20" bags for my food, and the smaller 9" X 10" for my toothpaste and toiletries. (Always utilize best practices when outdoors)
See Summit Hut Camp Kitchen Gear
Personal Cleanup
Alright, you just hiked 12 miles into Havasupai. You worked nice and hard, and now… you've got a little stank going on. You could use some help.
What do I use? — Wilderness Wipes
Sea to Summit created this compostable wet wipe option for the outdoors person. They come in 2 different sizes, and are great for personal clean up. The larger size can used for wiping off dirt, grime, and sweat from larger areas of your body. The smaller size can be used for more specific cleaning. I take these on Every. Single. Backpacking. Trip. I. Go. On. Period. They're absolutely fantastic. And did I mention they're compostable? I prefer the smaller size because it's more manageable for me to use when size and weight are a factor.
See all of Summit Hut's Toiletries
Footwear
This will likely be the most important element of your trip, and there are two very different styles of hiking when it comes to Havasupai.
For the main 12 mile hike any type of Hiking Shoes, Boots, or Trail Runners are appropriate (again, I backpack, so I am typically going to be wearing a backpacking boot).
Here's a case for Waterproof Boots as an option: Just past the village, you have a mile of some extremely fine sand that you have to pass through. Every single person I was with got their shoes completely sand-logged, and had to stop over, and over to get the sand out. I was the only one that brought waterproof boots. I didn't have to stop a single time! My friends, however, were very annoyed.
– Outside of the main hike, you have to consider what shoe is appropriate for going through a cave, climbing down the side of a wet rock face, and walking through water. I'm talking about going to Mooney Falls, the tallest of all the Havasupai waterfalls. This is where a lot of people get tripped up on choices and try to find a singular shoe that will do it all. I like the idea of having one shoe that does it all, but I would seriously explore your options and have a different pair for this part.
What you'll want to be looking for is something that is synthetic, has decent grip, is light, dries fast, and packs well. A lot of people will go for Teva hiking sandals (they have Spider Rubber which is made for in-and-out of water) which I think are a great choice. I also think most Trail Runners would do great for this section. We just want to make sure we're not going for leather, and that we're choosing something that secures the foot in place.
What do I use? —I typically don't like telling folks what I use for footwear because what fits me will not fit you, and that's okay. If you're doing boots/trail runners/hikers for the hike in, get fit appropriately and spend time in them. Be comfortable and don't buy too small!
For the shoes that will be going into the water: Trail runners are great, but make sure you're not hauling in something that is the same weight as your boot. Salomon TechAmphibians are a great option and widely available for scenarios just like this. Shop Soloman Footwear. I used a pair of VibramFivefingers, and I currently use a pair of discontinued Inov-8 TrailRoc 245s.
Oh, and… camp shoes are also nice if you can afford the weight. One of my biggest mistakes was not bringing camp shoes. I walked around camp after all of those miles in my big ol' boots and it was not as comfortable as it could have been. Outdoor Research makes some great camp slippers that hardly weigh a thing. Outdoor Research Aerogel Booties.  Check out these Camp Booties
Pro Tip: You still rocking those cotton socks? Go for Wool or Synthetic- Shop Summit Hut Socks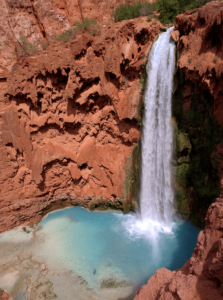 Enjoy Yourself
Aside from all of those things, do your best to have a fun time. So many people get consumed in the hike, and don't take the time to really look around and appreciate their surroundings. This is an incredibly beautiful and unique part of Arizona and is very important to the Havasupai people. Take photos, of course, but take care of and respect the land. It's a privilege in being able to experience such a place, and I hope that you enjoy it just as much as I did.
I hope these little tips, ideas, and life lessons help to direct you into a wonderful experience.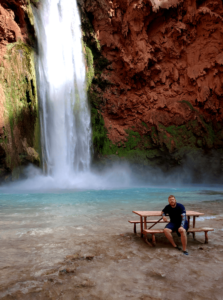 Follow This Link To Make Your Reservation- Havasupai Reservations
Need more advice or gear to get you on the road to your next adventure?
Stop by Summit Hut at our Oro Valley or Speedway locations.