My running season officially started Saturday October 19th this year with the Cave Creek Thriller 31k put on by Aravaipa Running. This is the first of 7 races that Aravaipa will put on between now and March. I'm signed up for all them as well as the Old Pueblo 50, my first 50 mile race. I like to arrive early to races so I can take my time getting ready and try to get myself mentally ready for the day. The 31k started at 7:30am, I was in the parking lot by 6:45. On my way in I was treated to a hot air balloon launching. It was just one balloon at first but soon there were over a dozen inflating and rising from the desert.

First balloon rising of the morning
I ran most of this race last year but I had to drop out after about 20k because of an old injury that flared up. My plan this year was to run the race in three stages. The first six miles were relatively flat so I was going to try to push a little. The next 6-7 had a lot of short steep climbs and finished with a mile or so of downhill and through here I was going to try to move quickly but be mindful of not pushing too hard. The last 8 were going to be tough for me so I had decided to walk most to all of the uphill sections and really listen to my body and not push too hard.
The first six miles went really well. It was about three miles, mostly downhill, out to an aid station and then back. The trail winds through a wash making several rocky crossings and it was easy to lose if you were running with your head down. The three miles out went really well and when I reached the aid station I felt good. I grabbed some ginger ale and pretzels and headed back. The next three miles were a little tougher as the course headed back towards the hills.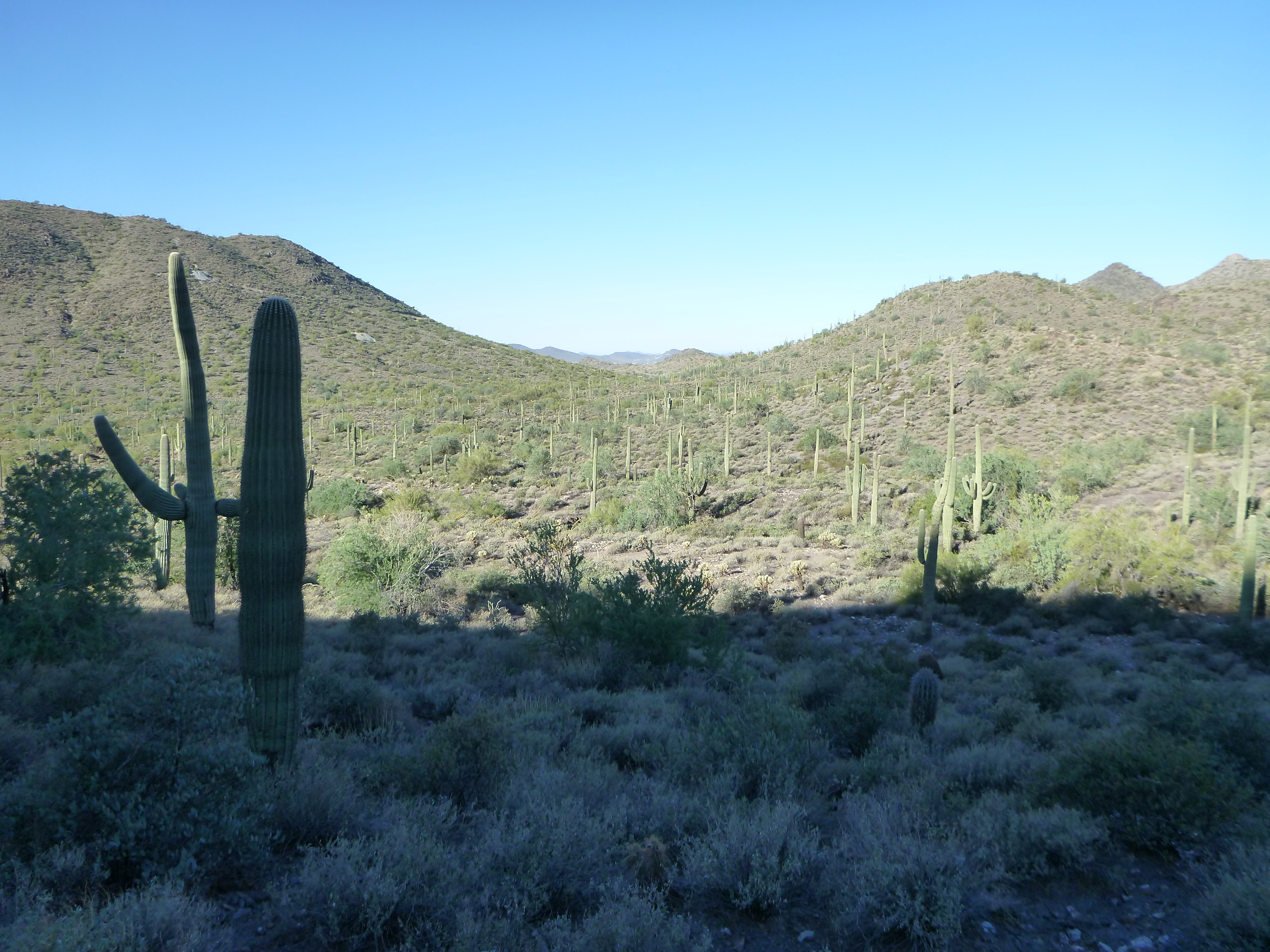 The view looking back towards the race start at mile 6.

Looking up the trail at mile 6
I worked hard to get to the saddle and catch the next few runners and took a moment to enjoy the view to the north.

Looking back from the top
It was about 3 miles of rolling trail with steep short climbs and descents to the next aid station, a total of 6 miles from the last aid station.  I had run this section last year so I did my best to bomb down the trail when it allowed and I wasn't too hard on myself on the climbs. The next aid station came quickly enough and I was feeling pretty good overall. The next 3 miles were a gradual climb to the last mile of downhill and back to the start/finish line to begin the next lap.

Heading downhill
I always struggle with races that run through the start/finish line. There is something about running past the spot where I'm going to finish that really gets in my head and slows me down. Up until this point there were quite a few people on the course. The 50k distance had started 30 minutes before us and the 19k 30 minutes after but once I got a few minutes past the start/finish aid station I was on my own and didn't see anybody until the next aid station about 4 miles away. It didn't take long and I started to feel the previous 12 miles. I realized that I hadn't been keeping up on electrolytes and I started to cramp. I started taking salt caps and gels but it was too late and I had to really slow down. The last aid station came slowly but I was able to enjoy the scenery and the great weather.
The finish line eventually came and I finished within my goal time range. As always Aravaipa puts on a great race with well stocked aid stations, well marked trails and great competitors. Everybody has a fantastic attitude and encourages each other along the way. The next race is Pass Mountain 26k on November 16th and I'm looking forward to it.
Notable Gear I used
Ultimate Direction SJ Vest – I've been running this since last year and it is great.  The fit is good enough, the pack space is usually more than enough but allows for long unsupported training runs and the bottle pockets are great.  My favorite feature has to be the small pockets beside the bottles.  They are perfect for gels, food, and trash.
Merrell Mixmaster 2 – I'm on my third pair. They have minimal cushion and a 4mm drop with a rock plate in the forefoot.
Superfeet Carbon -  I've recently added the Superfeet Carbon footbeds to my shoes and they have really extended the life of my shoes while adding some rock protection from the arch back.  They work well in every shoe I'm currently running.