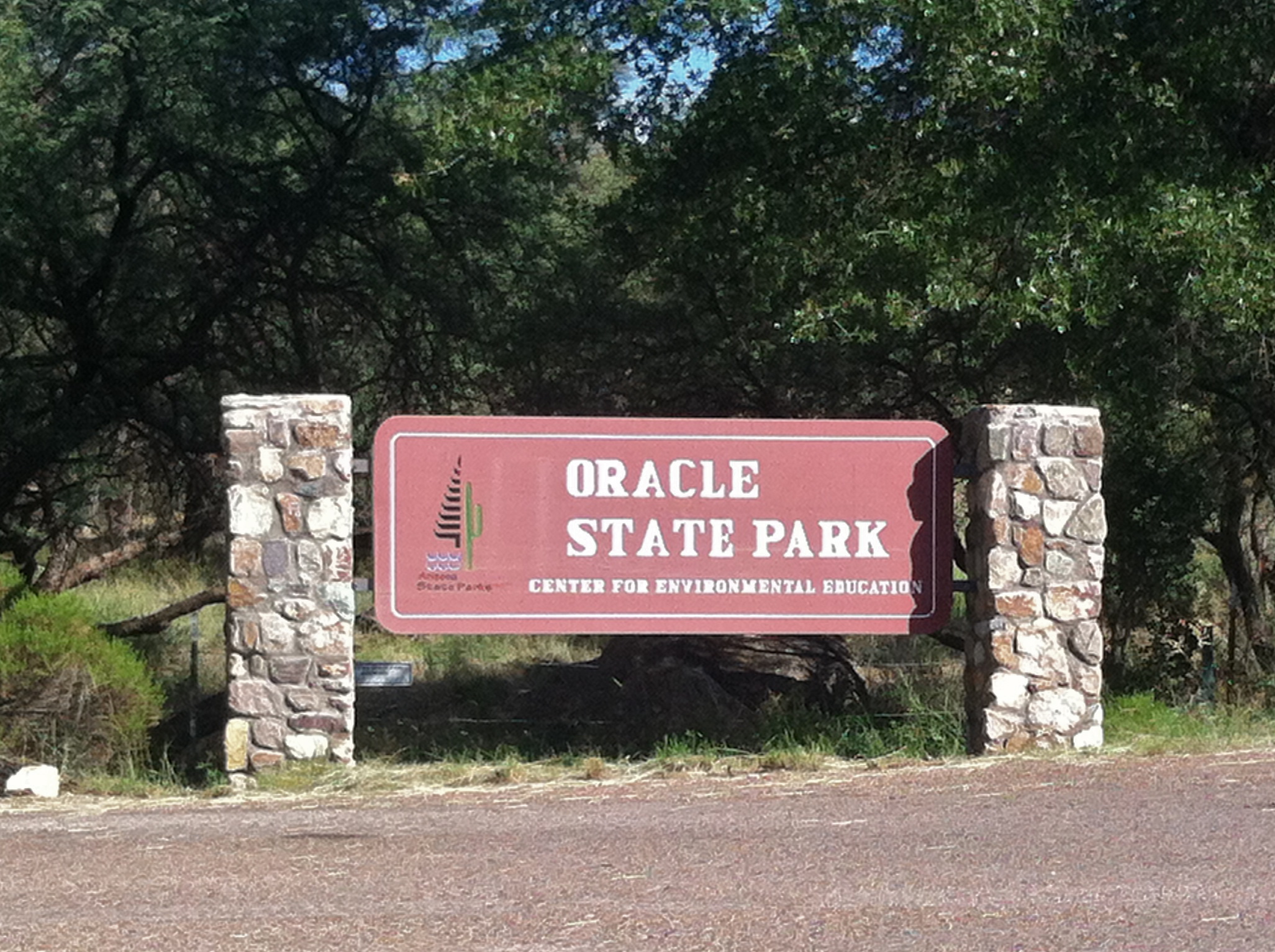 Oracle State Park entrance
It feels really good to help a state park, especially considering all of the funding cuts and closures they've had to work around in the past years. Oracle State Park was closed for two years after the state legislature cut the park system's operating budget. There has been much effort being put into reopening parks like this though. Thanks to the help of Friends of Oracle State Park and private funding, the park is now open to the public on weekends for day use. It continues to function as an environmental education center, hosting schoolchildren for fieldtrips during the weekdays.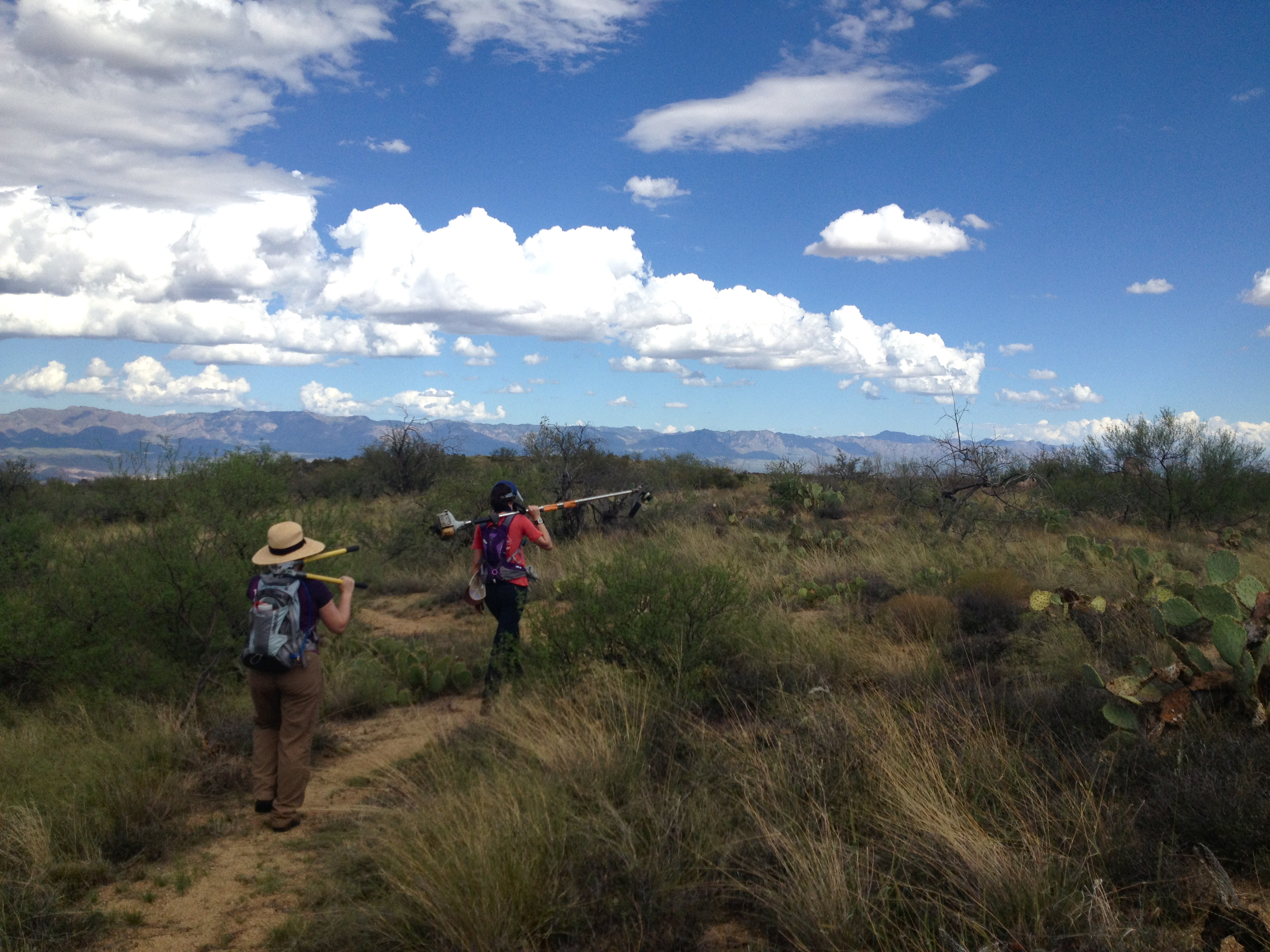 Oracle State Park tends to be about 10 degrees cooler than Tucson. It was a beautiful day to be working outside!
As a part of our 100 Days of Service that we are dedicated to each year, Summit Hut staff helped Park Ranger Jennifer Rinio prepare Oracle State Park for reopening. The park had been unmaintained for several months over the summer, so there was a lot of work to be done. Trash had blown in, trails had overgrown and picnic areas were becoming almost indistinguishable. We spent several hours trimming back bear grass and cat claw, lopping branches, weed whacking, rebuilding trails, and mowing parking and picnic areas. I didn't realize how much effort was needed to maintain a park until I was out there with rocks pinging my face shield. The bruises and cuts were worth it when we saw the impact we had made. Volunteer work is an integral part of keeping this park open.

Clearing picnic areas was a major part of the job. Summit Hut Assistant Buyer, Nicole, works the weed whacker
On one of the days, we took a lunch break on the upper patio of the Kannally ranch home, which is a four-level Mediterranean style villa listed on the National Register of Historic Places. This building serves as a welcoming center as well as environmental learning center for the park. They give free 45-minute tours of the home with park entrance on weekends at 10am and 2pm.

Digging out and weed whacking was necessary on the overgrown trails

Summit Hut owner, Dana, clears a sidewalk of tree branches
Oracle State Park is well worth the 45-minute drive up north from Tucson to spend the day. There are more than 15 miles of trails for hikers, bicyclists and equestrians on the 4,000-acre property, including a 4-mile section of the Arizona Trail.

Summit Hut owner, Jeremy, trims back some bear grass while staff member, Dave, shows his enthusiasm
To get to the park from Tucson, drive north on Oracle Road, which becomes AZ-77. Follow AZ-77 past Oracle Junction to turn right into the small town of Oracle. In Oracle, follow the main road, American Avenue, to a right turnoff for Mount Lemmon and the state park. Then, continue just over a mile to the park entrance on the left.
The park will be open from October 5, 2013 through April 27, 2014 on Saturdays and Sundays from 8am to 5pm.
You can also check the website for upcoming events.
http://azstateparks.com/Parks/ORAC/index.html
If you have questions, you can contact the park office at (520) 896-2425.