Well folks, we just got the Mix Master 2 by Merrell in at Summit Hut.
Weighing in at 8.1 ounces, this is a great minimal trainer from Merrell's M-Connect line of shoes. Merrell markets the Mix Master 2 as a light-weight multi-sport shoe with minimal drop. "Multi-sport" meaning that the shoe should perform equally well on the trail as it does on the road (hence the name, Mix Master).
The Mix Master has a mesh upper with lightweight TPU overlays. The mesh upper gives the shoe that slipper-like fit and flexibility, while the overlays lock your foot down. It also features a bellows tongue which helps keep rocks, pebbles, and other debris, out of the shoe.
The collar is very soft and comfortable, minimizing the chances of ankle irritation.
The toe box is a little narrower than say, the Trail Glove, but it still provides a decent amount of room, more than most trail runners. There is also a rubber toe guard for protection on those super technical trails where the chances of smashing a toe are more than likely.
The Mix Master sports a 4mm drop with a stack height of 9mm in the heel and 5mm in the forefoot (plus a 2mm EVA insole) and the EVA foot bed is treated with Merrell's antimicrobial solution to keep odors at bay.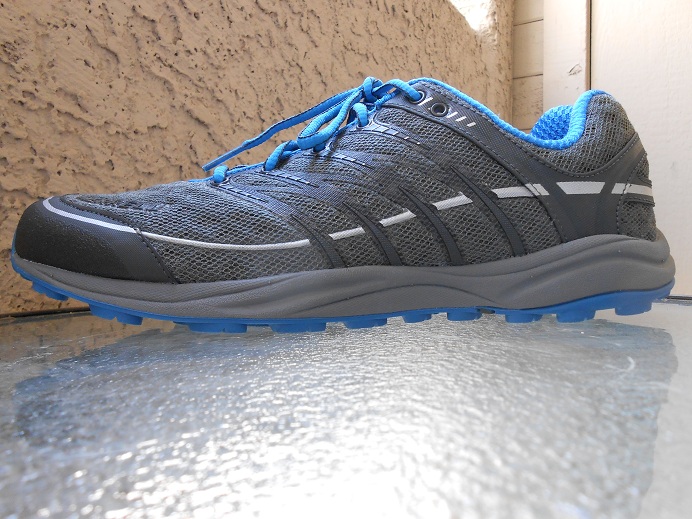 The outsole features lugs made with Merrell's "sticky" rubber. Hidden beneath the outsole is a flexible forefoot shock pad which protects your foot against rugged terrain and evenly distributes impact forces.
With all of these protective features you'd think that the shoe would lack flexibility, but it doesn't. It remains flexible and nimble, to ye minimalists delight.
Wear test and thoughts: In the last couple of days I took the Mix Master 2 on a few runs on various terrain. I took them on the treadmill, paved road, single track, some technical trails, steep climbs and equally steep descents.
Merrell exceeded my expectations with this shoe. The low drop and stack height made for great ground feel and definitely encouraged a mid-foot strike without sacrificing cushioning. The outsole is very sticky and the lugs are aggressive enough to handle some very technical terrain, but not so over bearing that you can't hit the black top. My foot didn't slip around in the shoe during descents, but didn't feel constricted in the toe box either.
I would recommend the Mix Master 2 as a daily trail trainer or a transitional shoe for someone who wants to switch to a minimal style, but isn't quite ready for a 0mm drop shoe.
Thanks for reading!
For more of my adventures and training visit: koreykonga.blogspot.com