The Patagonia Light Flyer Jacket is a light weight breathable waterproof active shell featuring GORE-TEX Active Technology is a great option or any runner looking for some reprieve from storms.
The back panel vents as well as zippered vents on the upper arm allow for extra air flow when you're really pumping out a tough work out.
The waterproof zippered pocket on the back of the jacket is great for storing a few essentials. I can fit a credit card, my ID and my electronic car key, which gives me more space in my handhelds for GU, which is awesome.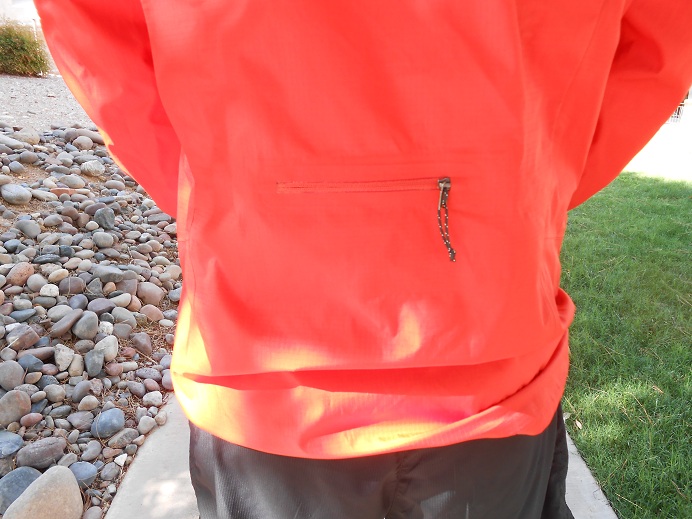 The collar is lined with a soft moisture wicking fabric providing comfort even after prolonged friction.
Finally, one of my favorite features of Patagonia's Light Flyer are the built in mittens which fold down from the jackets cuffs. I can't tell you the number of times I've gone out for a run and left my gloves at home only to be thinking about how cold my fingers were for the entire run. This was a FANTASTIC idea and I give big props to Patagonia because I'm sure this feature will save my day many times in the winter months.
One thing you should keep in mind if you're ordering this jacket online is that it runs a little small. I wear a size small in EVERYTHING, but in the Patagonia Light Flyer I wear a medium, which fits me perfect. It's a slim fit jacket which is just how I love all of my shirts, so I love the fit.
This is literally the best running shell I've ever worn. Whether you're an elite runner or a weekend warrior, I strongly suggest investing in this piece of essential gear for the upcoming season.
Thanks for reading!
For my training and adventures visit: koreykonga.blogspot.com