Among all the high places surrounding Tucson, Rincon Peak, at the southern end of the Rincon Mountains, is on my "top three" list of the area's most beautiful peaks (the other two are Cathedral Peak and Mt Wrightson).
Rincon Peak seen from a view point near Manning Camp
It is tall, massive, pleasingly shaped, and capped with a distinctive granite dome. Standing alone, separated from the rest of the Rincon range by Happy Valley Saddle, it rises high above the Vail area east of Tucson. Rincon Peak is nice to look at!
According to a Park Service history of Saguaro National Park, some of the earliest American visitors to Rincon Peak were probably loggers harvesting timber for use in the valleys far below. An Army officer surveyed Rincon Peak in 1890 looking for a heliograph site and "encountered a logging trail which led to the top of the peak".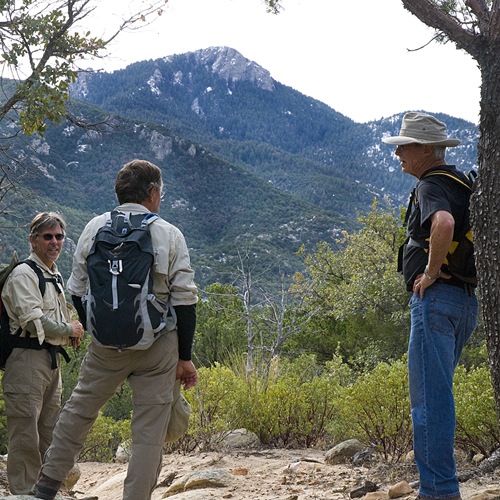 Taking a break near Happy Valley Saddle
It takes hard work to reach Rincon Peak's summit. The Miller Creek approach described here is far and away the most popular route, but demanding, with a 4,300 foot elevation gain and a round trip distance of about 16 miles. Adding to an already long day is the drive to the somewhat remote trailhead on the east side of the mountain range. Some parties break the climb up by camping half way at Happy Valley Saddle, but this strategy is complicated by the fact that water sources at the Saddle are somewhat unreliable. So, day trips to Rincon Peak are often the norm, but an early start and headlamps are recommended.
The summit monument
Park your car at the Miller Creek Trailhead just off Mescal Road (32.15188 N, 110.48173 W, WGS84), about 15.5 miles north of Exit 297 on I-10. This is a dirt road, but medium clearance passenger vehicles should have no problems other than having to drive slowly through some sections. Walking west from the parking area you soon reach a fence with two gates – the Miller Creek Trail passes through the left one. After a mile or so in the bottom of Miller Canyon, the trail strikes uphill towards Happy Valley Saddle on steep hillsides strewn with boulders, Manzanita and oak trees. At the top of this first long climb you catch a great view of Rincon Peak's rocky summit and come to a trail junction with the Heartbreak Ridge Trail. Bear left (south) here, and walk a half a mile through a lovely Ponderosa Pine forest to another trail junction where you turn left (south) towards the final push up Rincon Peak. The steepest and most strenuous section of trail is very near the top, but it eases up a bit as you pick your way up the final granite cap to the summit. Enjoy the magnificent views and take a well deserved rest, but don't linger too long – it's a long way back to the trailhead!
Late in the day above Miller Creek
Season: Fall and spring preferred. Winter snow and dangerously slippery ice can impede or halt progress altogether on the high north facing slopes near the top. During summer months this hike can be very hot especially in the lower elevations, so early starts and an ample supply of water are recommended.
Water: A water source near Happy Valley Saddle campground is seasonal and unreliable. Bring plenty of your own.
Difficulty: Very difficult. Sixteen miles round trip and 4,300 feet of elevation gain tells the story! Get an early start and bring a headlamp just in case.
Note: A $6 per night camping permit is required from the Park Service for camping at Happy Valley Saddle. An application form is available here.
Maps: Green Trails Saguaro National Park; or National Geographic Arizona digital map software.