Our trip started on a Tuesday when we left Tucson headed for the Paria/Vermillion Cliff's Wilderness area. After a long drive north to the southern edge of Utah we arrived at the White House trail head and campground around 10pm. We dropped an impromptu camp in front of our cars and got to sleep. Our original plan was to start hiking Wednesday at the Wire Pass trail head and make our way through Buckskin Gulch, the Paria river canyon and down to Lee's Ferry in 3-4 days. Several days before we left Tucson we heard that there was a large blockage in Buckskin around 10 feet high and 25 feet long.  Rangers said there were several spots with waist deep water upstream of the blockage and that they had not heard of anybody being able to get through. That information plus the threat of thunder storms Thursday night forced our hand and we decided to alter our plan. We would day hike Wire Pass through Buckskin to the blockage and then back out on Wednesday. Thursday we planned to start at the White House trail head and hike down to the confluence of Buckskin and the Paria River and make camp there. From there we could either hike through to Lee's Ferry or day hike up and down stream to try to see the best parts of the slot canyons the area had to offer.
Wednesday morning we checked in at the ranger station at White House. They informed us that the threat of storms had risen considerably and they were expecting the area to get several inches of rain, not the best forecast for hikers in a tight canyon. They were even expecting to see snow a little farther north as the front came through. We decided that we should head to Wire Pass and get into Buckskin to see how much water was there ourselves and enjoy the canyon before we decided what would be best the rest of the week.
Wednesday Morning
Hiking Wire Pass into Buckskin Gulch is a very well known hike. Quick search online shows amazing pictures of sculpted walls, fantastic colors, and classic picturesque images of desert canyon landscapes. Our day definitely met our expectations. Wire Pass above Buckskin Gulch was great. The trail drops into the wash immediately and stays there for the entire hike. The canyon walls slowly get tighter easing you into Buckskin where things really narrow. My pictures really don't do my memories justice. The scale of the walls, sharp colors, and feeling of constriction were amazing. We had around 5 spots where we waded through thigh deep muddy water. We saw a few other groups in the canyon but I was amazed at how few people were there and how remote it really felt.We decided to take our time and never made it down to the blockage. Once we turned around, we saw two snakes in Buckskin, which was a treat. We made our way back to our cars and drove back to the White House camp ground to decide what we should do the next few days.
Wire Pass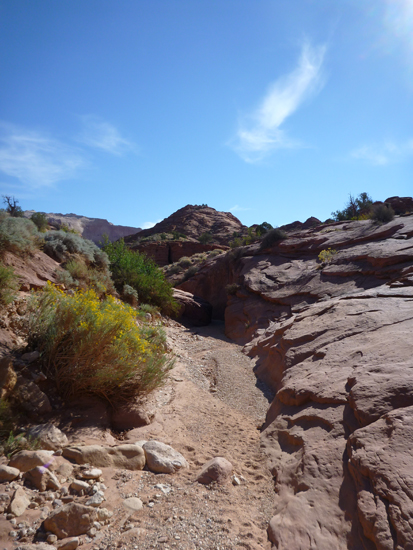 Buckskin Gulch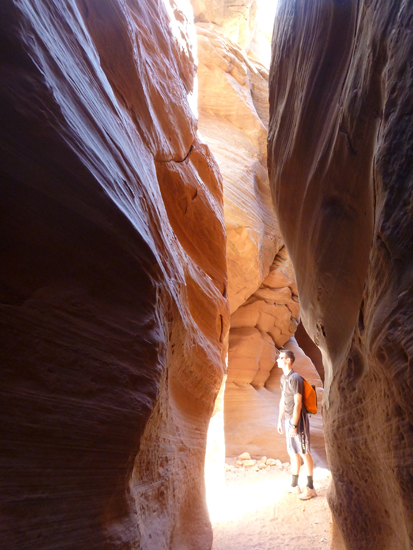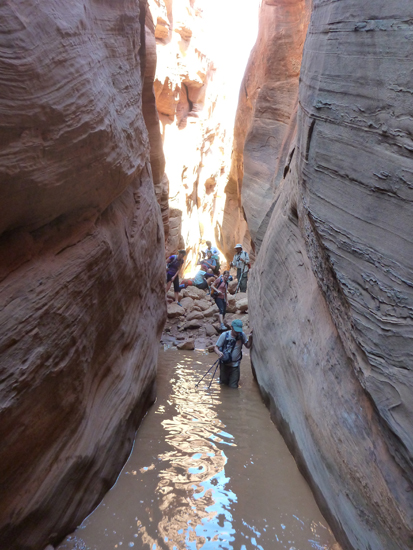 We discussed our options, how we were feeling and what we thought the weather was going to do. Being in a slot canyon with a real threat of rain turned out to be more than we wanted to tackle. We decided to camp at White House again that night and head out the next morning. The next morning we packed up and headed for Prescott via Sedona. On our way to Sedona we stopped at Horse Shoe Bend, a beautiful overlook of the Colorado River below Glen Canyon Dam. The view was well worth the five minute hike. I would recommend getting there early though, we arrived around 9 am and the parking lot was quickly filling up.
Horse Shoe Bend
We drove to Sedona through a few small storms for another quick day hike and decided on Bell Rock. There are quite a few options for great day hikes around Sedona but we chose Bell Rock because of the limited exposure if/when the weather arrived. The trail was busy but not crowded and the view to the north was almost as good as that of Cathedral Rock but without most of the effort. We made our way maybe half way up the rock while other "brave" hikers were pushing up much higher.
Bell Rock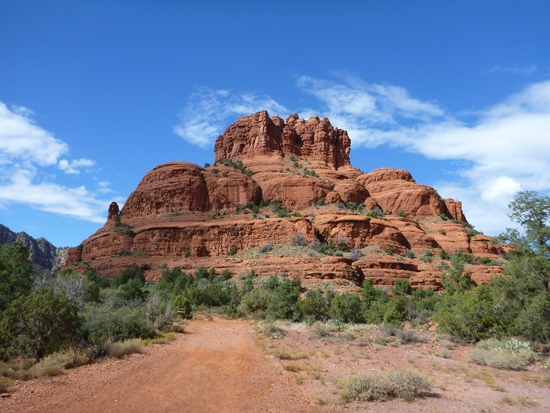 Back in the car we headed for Prescott. We took Beaverhead Flat Rd to Cornville Rd making our way toward Cottonwood. The road was amazing! That route takes you away from most of the traffic heading into and out of the Sedona area. Views are fantastic and the road seemed brand new. We crossed the Verde Valley and went through Jerome, always fun. On the other side of the pass we were treated to a large heard of Antelope that were running around and seemed to be enjoying cooler weather between the small storms in the area. We found a hotel, took much needed showers and had dinner at the Prescott Brewing Co. which is always good. That night several large angry thunder storms came through the area, making us feel pretty good about where we were.
Friday morning we got up and headed to the Watson Lake area. This is another great/short day hike. There are several trails that lead in and over large granite boulders at the lake's edge. The weather was pretty chilly and although we couldn't see any of the higher peaks in the area because of clouds, it didn't seem to be a stretch to imagine snow on the top of them. We had considered finding a spot to camp that night but we decided to cut our losses and head back to Tucson.
On our way back we had lunch in Phoenix at Bobby Q. If you are a bar-b-que fan you really need to try this place. Everything on the table was amazing. We had brisket, ribs, pulled pork, pulled chicken, corn bread and mac and cheese but the best part may have been the free homemade donuts at the end. It will be hard for me to go to Phoenix and not have a meal there from now on.
There were a few pieces of gear that I used on this trip that really stood out. First, I was able to try out one of Therm-a-Rest's new sleeping bags coming out next year. I used the Antares, a 20 degree 750 fill down bag. What makes this bag special is how it attaches to a pad. There are two wide and stretchy bands that keep the bag down on your pad. It also doesn't have any fill on the bottom of the bag through most of the torso and leg area. I'm a side sleeper and I toss and turn quite a bit. I never found any issue rolling around in the bag; no cold spots, drafts, uncomfortable positions, nothing. It was great! The lowest temp I saw was around 32 and I never had the bag completely zipped. I was sleeping on an Exped Synmat 7. This bag is in a series that includes 2 down options, a 20 and a 0 degree, and two synthetic options of the same temperatures. The Summit Hut will be carrying all 4 in the spring.
I also got a chance to spend more time playing with my Garmin fenix GPS/ABC watch. I've been running with it a fair amount but this was the first time I used the "Ultratrac" GPS settings that extend the battery life significantly. It performed exactly as expected but it is worth noting that the canyon walls in Buckskin Gulch were too narrow for most of our hike to be able to find a signal. This is where the Suunto Ambit would really come in handy with its accelerometer filling in for the GPS.
Although I never got a chance to do any miles with it, I brought a new pack from Exped, the Lightning 60. This pack offers a great combination of simplicity and durable materials that give a great carrying, light weight option. The bag is a single main pocket, roll top, and an effective set of compression straps. It has a single stay and comfortable suspension that worked well with my load, around 50 lbs.